The land of Kashmir, which abundantly offers you the ultimate happiness, comfort and, a rejuvenating experience of being in the lap of alluring nature. This land is a home to mighty Chinar trees, fascinating snow-capped mountains, serene lakes, tempting apple orchards, the violet fields of saffron, pretty Shikaras and Houseboats, dazzling Tulips in spring that keeps you intrigued throughout your visit to this mesmerizing land. Behold the captivating snow- the White Mountains turning golden at the dawn while indulging the warm cup of Kashmiri kahwah Tea. For the ones who adore natural beauty, the enchanting land of Kashmir is, truly, a feast for the eyes. Experience and cherish the heavenly beauty of Kashmir with GoParyatak's tailor-made packages. GoParyatak's packages have carefully planned itineraries that will let you relax and cherish the surroundings.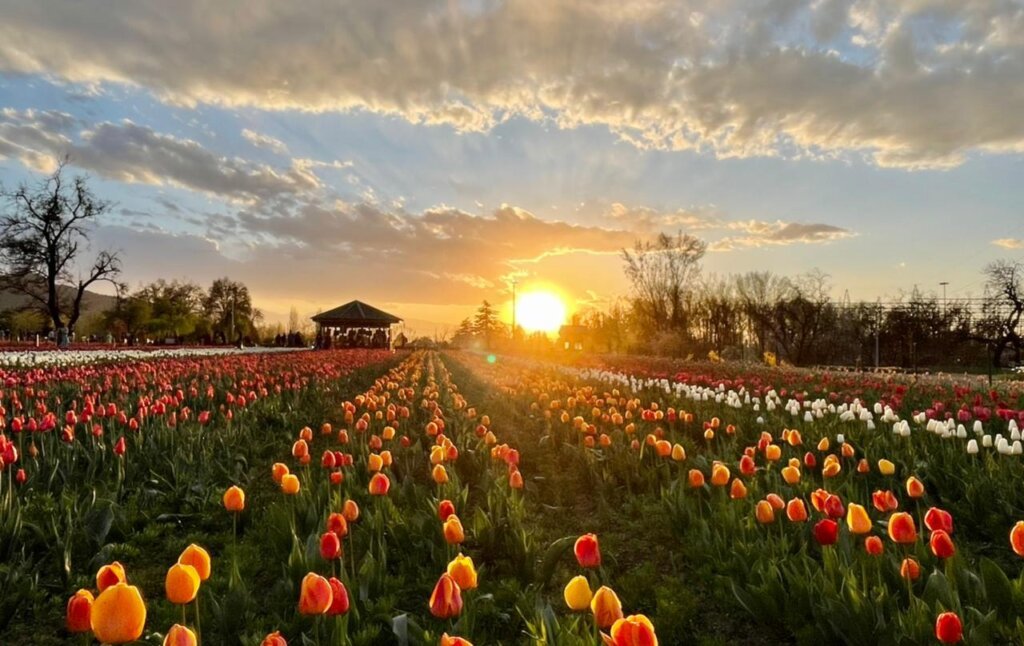 Here is the list of some frequently asked questions by tourists while traveling to Kashmir.
Frequently asked questions by tourists while traveling to Kashmir
What is the ideal tour duration to visit Kashmir?
8 Nights – 9 Days is ideal duration for a Kashmir visit. You can visit all the important places in the Kashmir Valley in 8-9 days.
What is the ideal season to visit Kashmir?
To enjoy fresh snowfall, visit Kashmir between December to February. To witness beautiful landscapes and greenery, visit in between March to August.
If you want to visit the annual Tulip Festival, the ideal duration is from March to early April. 
What is the off-season for tourism in Kashmir?
The month of August & September are called as off-season period due to heavy rains in the region during this period.
What is the name of the nearest airport to Kashmir?
Srinagar International Airport (Sheikh-ul-Alam Airport) & Jammu Domestic Airport (Jammu Civil Enclave)
What are the names of the states sharing borders with Kashmir?
Kashmir is a land-locked Union Territory of India. The state borders the Indian union territory of Ladakh to the east, Himachal Pradesh and Punjab to the south, Pakistan to the southwest, and the Pakistan Occupied portion of Kashmir to the northwest.
Kashmir is famous for which activities and monuments?
Kashmir is famous for the following activities and monuments:
Serene lakes
Snow-clad mountains
Lush Green Forests
Apple Orchards
Tulip Gardens
Temples, Monuments, and shrines
Saffron fields
Shikara rides
Houseboats
Gondola(cable car) ride
What things to buy when you are in Kashmir?
You can buy the following things when you are in Kashmir:
Pashmina Shawls, Woollens, and Blankets
Rugs and Kashmiri Carpets
Paper Mache Products
Traditional Jewellery
Kashmir Willow Bats
Spices
Dryfruits
Saffron
Apples and various other fruits
What all experiences to enjoy when you are in Kashmir?
You can enjoy the following activities when you are in Kashmir:
River-rafting
Paragliding
Skiing/Snowboarding
Golfing
Camping by the lakes and valleys
What all things to carry while traveling to Kashmir?
Carry the below-listed things/products while traveling to Kashmir:
Medical kit (Including the Band-Aids, Medicines for a headache, fever, stomach ache, cold and cough syrup, vomiting/dizziness, enough supply of any special medicine that you require.) 
Sunscreen lotion
Torch with extra cells, 
Insect repellent
Warm jackets
Thermal wear/Sweaters
Woolen socks
Scarf/muffler
Caps
Umbrellas
Shoes
Sunglasses
Sanitizer
Water Bottle
Snacks
Phone Charger
Adapter
Power Bank
Spacious bags
Enough Cash
Tissue papers
Mouth Fresheners
Flight tickets
Detailed Itinerary.
What are some 'must-visit' famous tourist destinations in Kashmir?
Kashmir has long been synonymous with vibrant nature, crystal clear lakes, lush green meadows, and gleaming rivers, warm and friendly locals. You can see and enjoy plenty that ensures you fly home with a basketful of sweet memories. Here is a list of "Top places to visit in Kashmir".
Srinagar: Srinagar is the capital city of Jammu and Kashmir and one of India's most gorgeous capital cities. Take a Shikara ride on the peaceful Dal Lake, stay in the cosy houseboats, and enjoy the enchanting landscapes surrounding it. Explore and shop Pashmina Shawls, Woollens, Rugs, Kashmiri Carpets, saffron and take back home precious memories of your trip to Kashmir. Visit the Shalimar Gardens and experience the pristine beauty of nature.
Sonmarg:  Sonmarg, truly known as 'the meadow of gold' is one of the most spectacular places in Kashmir. Taking a pony ride to Sonmarg is a great way to enjoy the real beauty of Kashmir. Nestled between snow-clad mountains, Sonmarg is surrounded by serene lakes and green grasslands. If you love camping and trekking, and adventure sports it's an ideal destination.
Gulmarg: Translated as 'Meadow of Flowers', Gulmarg is, undoubtedly, the snow paradise of Kashmir. Gulmarg is a beautiful town located, in a district called Baramulla in Kashmir. Gulmarg is popular for a ski resort, the Gulmarg Gondola -Asia's second longest cable car ride and the highest golf course in the world. This is the most popular destination for adventure seekers which offers various adventurous activities and sports options such as skiing, snowboarding, horse riding, heli-skiing, snow scooter, etc. 
Pahalgam: The picturesque town, Pahalgam, is blessed with nature's finest landscapes, the dazzling meadows, pristine water rivers that make Pahalgam, a must-visit destination in Kashmir. Visit Mini Switzerland to witness the epitome of natural beauty. Visit Aru Valley, Lidder Lake, and Betaab valley, to experience clear water rivers and enchanting deep valleys.
What are some important things to keep in mind while travelling to Kashmir?
Please keep these below-listed things in mind while traveling to Kashmir:
If you're flying out of Srinagar airport, do reach the airport with plenty of time to spare (at least three hours before departure), as there are time-consuming and multiple security checks before you receive your boarding pass. There aren't any restrictions on cabin luggage when flying into the airport. However laptops, cameras, and ladies' handbags when departing.
Only post-paid mobile connections work in the area of Kashmir. One can buy a new post-paid sim card from a local market for temporary use.
The entry tickets and activity charges at sightseeing places will have to avail by a guest on his/her arrangement and expenses. Local activities at Pahalgam and Gulmarg can only be done in the local vehicles and ponies. Travelers can not book them in advance. Travelers have to book these cabs and pony rides locally on a direct payment basis.
The meals included in the package will start from the dinner on Day One which will be served at restaurants of hotel of stay. The en-route meals have to avail by a guest on his/her arrangement and expenses.
Alcohol is not served in restaurants.
Most businesses shut for prayer at lunchtime on Friday in Srinagar.
There are many hotels along the way, most of which cater well to vegetarian travelers.
Due to a shortage of power or power cuts, the guest might have to bear with candlelight.
Once the package is booked & confirmed no refund will be entertained.
The guests are advised to maintain the schedule given for the sightseeing/ transfers.
Travel Agents reserve the right to make changes or omit any place of a visit, if it becomes necessary due to bad weather, bad road conditions, etc.
The guests are advised to inform if the guests are senior citizens or have health-related issues (like arthritis, heart problems, etc.) or any such matter which might need special arrangements. Some itineraries will not be suitable for them.
The security concerns, driver's working hours, etc. will be kept in mind while planning the tour and sightseeing.
In case due to an inevitable situation, if the sightseeing falls on a closing day, it will have to be left out. Conducting that particular tour or sightseeing point the next day can be subject to time availability
The mesmerizing Nature and eco-friendly atmosphere are the region's prime tourist interests. The facilities available here cannot be matched with other developed destinations.
What are some 'not-to-do' things while traveling to Kashmir?
Avoid indulging in the following things when you are traveling to Kashmir:
Do not carry unwanted baggage.
Avoid Smoking and drinking.
Do not swim in rivers, lakes, or glaciers.
Avoid the use of slang and touching the locals while talking and maintaining a healthy distance when in and around the city.
Avoid wandering alone at night.
Stay away from drugs.
Avoid insisting your cab driver take you to the restricted areas. Follow the safety rules and protocols.
Avoid venturing into the old city by yourself. Find a guide who can take you to the places you want to explore.
What are the local languages of Kashmir?
Local languages of kashmir:
Dogri
Urdu
Hindi
English
What all documents are required while traveling to Kashmir?
Indians: Four passport size photos and Original Photo ID proof with photocopy like passport, voter's ID card, driving license, etc.
Foreigners: Passport, valid visa, Overseas Citizen of India (OCI)
What are some reliable airlines connecting Kashmir with the rest of the world?
All major domestic airlines such as Indigo, Spicejet, Vistara, Air Asia have established good connectivity with the rest of India.
Both, Srinagar and Jammu airports have good connectivity with Delhi (IGI) Airport, Mumbai Airport, Bengaluru Airport, Ahmadabad Airport & Hyderabad Airport.
In most of the cases, one has to book flight having layover at Delhi.
What are some Public Holidays (Regional) Tentative* causing closure of activities and local sightseeing in the region?
The Sightseeing points may remain closed on:
Central Government & Bank National Holidays.
Jumat-ul-Vida (7th May)
Shab-i-Qadr (9th May)
Mela khir Bhawani (18th June)
Urs Shah-I-Hamdan sahib (16th July)
Eid-ul-Azha (20th and 21st July)
Ashoora (19th August)
Urs Sheikh Noor-ud-din-Sahib (4th  October)
Eid-i-Milad-ul- Nabi (19th and 22nd October)
Shab-i-Miraj(1st march and 4th march)
Please check with your travel planner before travel.
We hope our Kashmir Travel Guide will help you to plan your Kashmir tour hassle-free. Just drop a message and we will help you explore and relish the mesmerizing land of Kashmir.