Top 10 Places to Visit in India in Winter
Winter is the perfect time to set out on a great adventure and witness the wonders of the beautiful sceneries of snow-capped mountains, picturesque lakes, and vast never-ending valleys draped in white, before resting for the night and watching the sun go down, curled up in a blanket and sipping a cup of hot chocolate on cosy beds, in a setting you've never experienced before. Make up for the lost years of the past and travel our great country at its best, with the ease and comfort afforded by Goparyatak. Here are the top 10 winter destinations to set your adventuring flame alight this cold season.
1) Gulmarg
A scenic and quiet town residing in the heart of Kashmir, Gulmarg remains untouched by the hustle and bustle of city life which makes it the perfect winter wonderland with the temperature dipping down below -4c in January. Its name loosely translated to "Meadow of Flowers" is apt considering the beautiful Bluebells, Daisies, Forget Me Not and Buttercup flowers dotting its expansive valleys. With its proximity to Srinagar and its amazing ski facilities, Gulmarg is considered one of the most popular hill stations and a place to visit in India for both adventurers and families looking to escape to a fairy-tale destination. Other amazing features of Gulmarg include Asia's longest and highest gondola rides divided into two stages-Gulmarg to Kongdoori and Kongdoori to Apharwat Peak, an 18-hole golf course situated at an altitude of 2,650 meters which makes it the highest green golf course in the world and various religious attractions like the Shiva temple and Imambara Goom inspiring a sense of spirituality, serenity, and connectivity with the divine due to its tranquil locations.
 If you are looking to indulge in various winter activities and sports like skiing, snowshoeing, snowboarding, ice skating, sledding, etc, if you prefer taking a slow walk down an enchanting landscape with jaw-dropping sights blanketed in fresh snow, or you just want to lazily curl up by the fireplace and have a taste test of true Kashmiri delicacies, Gulmarg is the place to be this winter.
Famous Food – 
You can't leave Gulmarg without trying Kashmiri Wazwan, a multi-course meal comprising of more than 36 authentic traditional dishes. Usually served at weddings and formal banquets, it is a very important part of Kashmiri culture. The majority of the dishes are meat-based with a few vegetarian options. It is served on a beaten copper dish called Tarami covered by a copper lid called Sarposh.
Travel from major cities –
By Air:
Srinagar holds the nearest airport to Gulmarg. From there a cab will take one and a half hours to reach your destination in Gulmarg.
By Train:
Kashmir Valley in its entirety has no rail connectivity. The distance between Jammu (the nearest railhead) and Gulmarg is around 315 km, which makes the train a very unsuitable method to reach this tourist destination.
By Road:
Traveling to Gulmarg by road is the most practical option. You can board a flight to Srinagar, and then take a scenic 51 km drive through Srinagar – Tangmarg Road to reach your destination.
2) Shimla
Winter in Shimla lasting from around October to February entrenches its surrounding in frosted flakes with temperatures dropping below -2c, turning the towns into frozen paradise with loads to experience and sightseeing attractions at every turn. Strolling along the cafes on the famous Ridge Road and exploring the most comfortable mufflers, caps, sweaters, and mittens make Shimla a shopaholic's delight. From experiencing the thrill of ice skating and para-gliding to the joyous toy train rides from Kalka to Shimla, this premier destination is among the top places to visit in India and has a lot to offer for people from all walks of life. Welcoming travelers from around the world Shimla evens holds an inaugural winter festival, organizing a carnival including everything from ice-skating, skiing, snowman making, fashion shows, and performances to truly highlight the fun in the snow. Places like Jakhu Temple, Mashobra, Kufri, Narkanda, Rohru, Summer Hill, Shaily Peak, Chadwick Waterfall, and Annandale, are must-visit attractions on these hills.
Famous Food – 
Madra, a delicacy originating from the Chamba district of Himachal Pradesh, and Thukpa, a noodle soup of Tibetan origin are just a few examples of the vibrant and multicultural cuisine of Shimla.
Travel from major cities –
By Air:
Shimla Airport or Jubbarhatti Airport is the closest domestic airport and is about 20 km from the beautiful hill station. There are regular flights for Shimla from major cities around India.
By Train:
Kalka railway station is the nearest railhead connecting Shimla to neighboring Indian cities. It is situated at a distance of 96 km and cabs and private taxis are required from the station to reach your destination.
By Road:
A journey by road to Shimla is a delightful escapade. Shimla enjoys the ultimate connectivity with cities such as New Delhi (350 km), Dehradun (230 km), and Chandigarh (115 km) through well-maintained national) highways.
3) Manali
Considered to be a backpacker's paradise, a happening hub for get-togethers, a honeymoon destination like no other, and one of the best vacation spots to distress and unwind for families across the country and the world, Manali resides as one of the topmost tourist places in India in any list put together.
The imperial mountain ranges, picturesque landscapes, delectable cuisine, and treasured culture, mixed with the lavish lifestyle offered by this resort town sets it apart from all competition when it comes time to pack your bags and book your flights this winter.
Mall Road is one of the busiest and most lively places to shop with its incredible collection of shops, emporiums, restaurants, etc. Places like Solang Valley just 14 km away from the city center offer a myriad of exciting adventures and breathtaking views. Then there are locations like Old Manali that combine the new age architecture found in the modern cafes alongside the temples and other places of worship, amalgamating the old with the new and the traditional with the contemporary.
Famous Food-
The street food of Manali is not to be missed as hot Samosas, Khatta prepared with pumpkin, mango powder and crisp little balls called boondi, Sidu prepared with the dough of the bread, and Babri made out of soaked black gram paste are all simple yet flavourful dishes to rejuvenate you this winter.
Travel from major cities-
By Air:
Flights are available from all major cities and Bhuntar airport located at a distance of 10 km from Manali forms the perfect gateway for this hill station.
By Train:
Jogindernagar railway station connects Manali with several cities across the country, while Chandigarh and Ambala are a few other options to reach the hill station by train.
By Road:
The state of Himachal Pradesh enjoys a wonderful bus service which is why the most cost-effective and efficient way to travel to Manali is by road. Roads connect Manali directly to different places like Delhi (540km), Chandigarh (305km), Dehradun (227km), and Ambala (370km).
4) Auli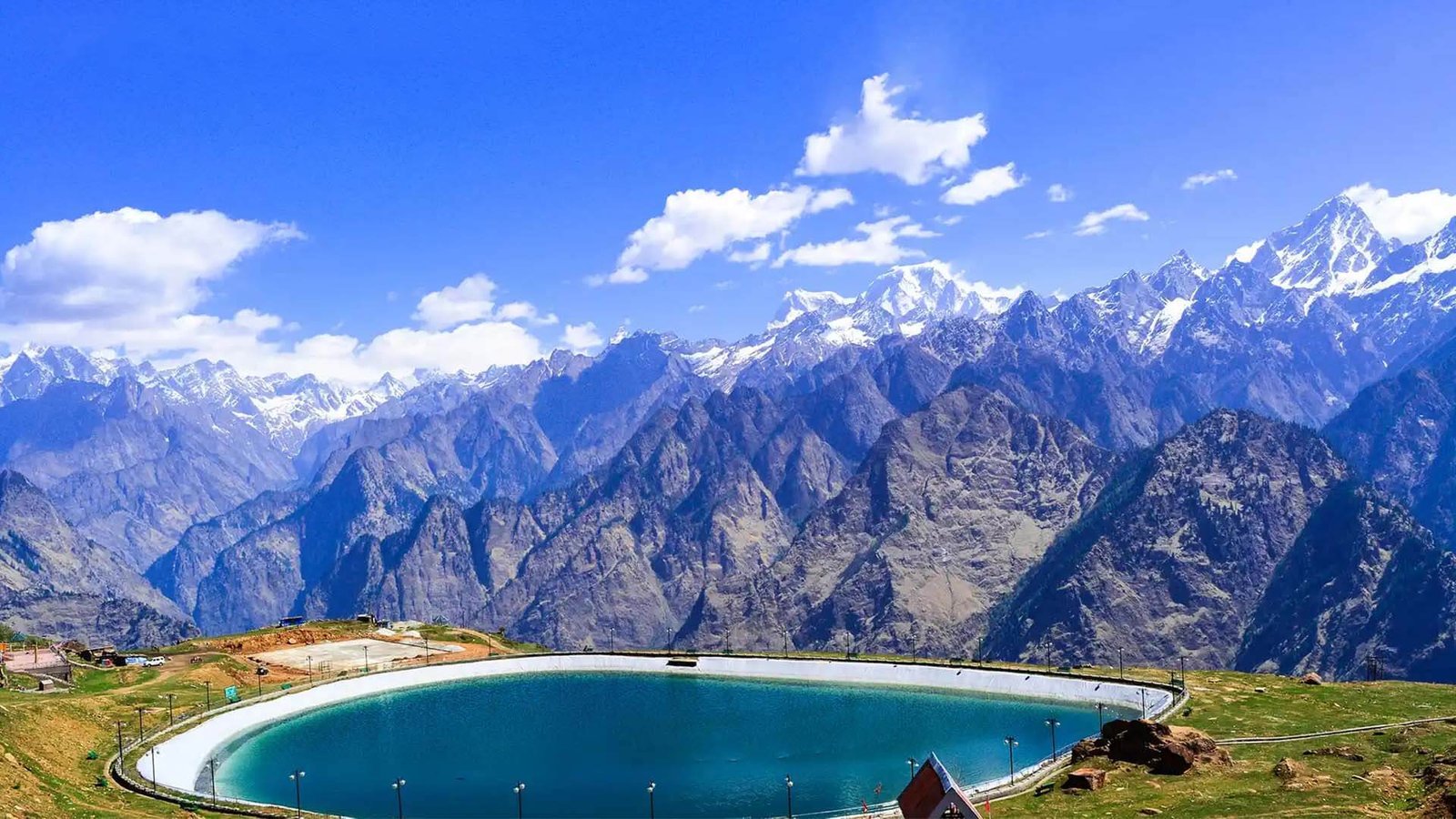 When winter comes around, the spirit of an escapade comes calling, the snow meadows of Auli offer a more intense and adventurous sense of wanderlust than most and is one of the best places to visit in India. With temperatures below -8c this ski destination offers gorgeous views, a pristine environment, and delightful activities to patrons who can get out of their cosy beds and brave the cold for a wonderous winter vacation.
Surrounded by mountains like Nanda Devi, Hathi Parvat, Trishul, Beethartoli, Dunagiri, Ghori Parbat, Kamet, Mana Parvat, Nar Parbat, and Nikanth the journey to Auli itself fills you with a sense of awe and wonder. Known for its serene apple orchards, Auli also boasts of unique man-made creations like the Auli artificial lake which is the face of the hill station's tourism. Other wonderful innovations include the Auli Gondola rides which take you up to 4000 ft to 9500 ft in a matter of minutes and is the second highest and longest cable car ride in Asia, just a few inches short of Gulmarg.  Chattrakund lake and Gorson Bugyal are easy and well-maintained treks with enlightening views to be enjoyed by the whole family.
Famous Food-
The local delicacies of Auli comprise the dishes of Kachmauli (stuffed goat with oil and spice), Bal Mithai ( a popular local sweet), and Singhori ( a cone-shaped sweet wrapped in Malu Leaf).
Travel from Major cities-
By Air:
Jolly Grant Airport is the nearest location to Auli at a distance of 286 km after which you can afford cabs or motorbikes to your destination.
By Train:
The nearest railway station to Auli is Rishikesh which is connected to all major cities around the world and situated 268 km before the hill station.
By Road;
Auli is well connected by road to major destinations of Uttarakhand. Buses and Taxis are easily available to Auli from locations like Rishikesh, Rudraprayag, Pauri, Srinagar, Chamoli, etc. Auli is located only 14 km away from Joshimath which is on NH58.
5) Dalhousie
Known as the "Switzerland of India" and among the best places to visit in December, Dalhousie enthralls its visitors with its old-world charms, Victorian and Scottish architecture, and its snow-laden landscape. There is heavy snowfall in Dalhousie in winter which transforms the quaint location into a fantastical wonderland turning it into one of the best vacations for adventure-seeking youths, couples, and families in general.
Khajjar, resplendent with never-ending green pastures, dense growth of cedar trees, and an overall pictorial landscape is known as Mini Swiss and is a must-visit destination for all with the Khajjar lake cutting through the valley making the location seem like heaven on earth. Chamba town offers another old-world location with its places of worship like Sui Mata temple, Chamunda Devi, Hari Rai, and The Chamba Church boasting of some of the Boasting some the greatest architecture seen around the globe. The town is set on the banks of the river Ravi which adds to its serene and tranquil environment.
Famous Food-
Dalhousie attracts visitors from all over the country and contains a multitude of different delicacies and cuisines to keep its patrons entertained and fuelled to enjoy their winter adventure.  One must not forget to try out the major dishes of Dalhousie like Chowmein of Chinese cuisine, Momos of Tibetan cuisine, a fare of Kashmiri, and Idilis of South.
Travel from Major cities-
 By air:
Gaggal Airport in Kangra is the nearest airport location. It is situated 13 km from Dalhousie and taxis and cabs are readily available to reach your destination.
By Train:
Pathankot, situated 80 km from Dalhousie is the nearest railhead to reach your location. This railway station is well-connected to various cities in India, like Pune, Delhi, Mumbai, Jammu, Kanyakumari, Pune, Chennai, and Amritsar.
By Road:
Dalhousie is conveniently connected by road to the nearby cities and towns of Punjab, Haryana, Delhi, and Himachal Pradesh. State bus services and luxury coaches run seamlessly in and around Dalhousie. Delhi to Dalhousie buses can be afforded easily from the nation's capital.
6) Goa
Among the most famous vacation spots in India, to enjoy the most festive winter possible, there is no better location than the party state of Goa. The moderate weather in the state dipping to its lowest of 18c on January nights is perfect for massive raves and the best EDM parties of the calendar year.
Immerse yourself in the house and techno music galore from the best artists in the world at this year's Sunburn festival on 27th December. For people wanting something more personal and intimate, there is the Mando Festival regaling the resplendent culture of Goa with men and women performing dressed in traditional garbs. In addition to the festival, there are majestic churches an example of Portuguese artistry, and dinner by the bonfires on the numerous scenic beaches tinged by the winter cold.
Famous Food-
Various mouth-watering delicacies of fresh seafood like Fish curry with rice, fried fish, and fish suke, a dried spicy preparation eaten as a side dish are a must-try. Solachi Kadhi a spicy coconut and kokum curry and Arroz doce, a Portuguese dish of kheer as dessert are also high up on the list of dishes that represent Goan culture.
Travel from major cities-
By Air:
Goa's nearest international airport is located at Dabolim which is at a distance of 29 km from Panaji. This allows visitors from all over the world to travel to Goa with ease.
By Train:
The main railway stations in Goa are known as Madgaon and Vasco-da-Gama. They are well linked with all major parts of the country.
By Road:
The main bus stand in Goa is the Kadamba bus stand of Panaji. It connects to major cities in and out of Goa through established roadways making a traveler's life very easy and stress-free.
7) Udaipur
With a moderate climate of 23c in the day and slightly chilly 11c weather at the night, the winter season is the perfect opportunity to visit Udaipur and explore its amazing collection of forts and lakes offering once-in-a-lifetime views at sunrise and sunsets alike. The Sajjangarh Fort and Kumbhalgarh Fort are must-visits to indulge in the royal feeling and so are the stunning lakes of the city like Lake Fatehsagar, Lake Dudhtalai, Lake Pichola, etc. Mount Abu, Nathdwara, Rajsamand, Chittorgarh, Ranakpur, Kumbhalgarh, and Haldighati are some other places you absolutely cannot miss on your trip to Udaipur.
Famous Food-
Daal baati is a famous dish known all over Rajasthan. Apart from this, other delicacies are specially made in the winter season out of Mewar which are a must-try.
Travel from major cities-
By Air:
The Maharana Pratap Airport, located 20 kilometers away from the city center of Udaipur, is connected to major cities all over India including Pune, Delhi, Mumbai, Kolkata, and Jaipur.
By Train:
A vast network of rail connects Udaipur to the major cities around India such as Jaipur, Delhi, Kolkata, Indore, Mumbai, and Kota. Trains like Mewar Express, Gwalior-Udaipur Express, Bandra-Udaipur SF Express, Chetak Express, and Annanya Express are easily accessible for travelers.
By Road:
Udaipur is easily accessible from Delhi and Mumbai via National Highway 8 (NH 8). The drive is around 10-11 hours long and is a journey of roughly 700 kilometers from both of the above-mentioned cities. Tourists visiting Udaipur usually prefer to drive on their own. There is also a very well-established bus service network to Udaipur, linking it to several cities like Delhi, Jaipur, Indore, Kota, and Ahmedabad.
8) Rann of Kutch
With the Thar desert on one side and the Arabian sea on the other, the Rann of Kutch can truly be considered a natural wonder of the world and among the best tourist places in India. Situated in Kutch known for its expansive salt marshes, deserts, historical cities, and heterogenous wildlife the winter season is the perfect time to visit this paradise on earth. Experiencing the Rann Mahotsav held every year between the months of October to February is a must. There are several amazing things like hot air balloon rides, cultural performances, desert safari, landmark temples, and pre-historic caves that coax the senses of travelers from all around the globe. Narayan Sarovar India's Westernmost Tip, Spot Flamingoes At Kutch Desert Wildlife Sanctuary, the historical city of Bhuj, and beautiful migratory birds at Topansar lake are some attractions you definitely must not miss.
Famous Food-
The majority of the population at Kutch is vegetarian and their staple dishes refined over the years right in their homesteads like kadi khichdi and bajra and rotla with curd and buttermilk contain robust flavors that represent the unique identity of the state's culinary cuisine.
Travel from major cities-
By Air:
The Kutch Airport in Bhuj connects it with the rest of the country through regular, easily available flights.
By Train:
The railway station in Bhuj provides you with the best access point to reach Kutch via train. Once there taxis and buses are readily available to take you to your destination.
By Road:
State transport and private buses are always on the go from most of the major cities in Gujarat and some cities from Rajasthan to get into Kutch. Taxis are a viable option as well. In case you are looking for a long drive, the best road to take would be National highway 8A to reach your destination in Kutch.
9) Jaisalmer
Experience the beauty of Jaisalmer in a whole new light from the gorgeous Thar Desert, and the enchanting royal forts and palaces. There isn't one dull moment in the traveler's itinerary when you decide to visit Jaisalmer in December. The iconic Golden fort of Jaisalmer an epitome of grand Rajasthani architecture, reflecting the golden shine when the sunlight cascades down its walls on a winter evening, the eerie Khaba fort, Bada Bagh housing the lined Cenotaphs, a gigantic tank, and a huge dam, Patwon ki Haveli a cluster of five magnificent places are all imposing and breathtaking sights on the desert and among the best places to visit in the month of November in India.
Other must-visits include the Khuri dunes on the outskirts of the city offering great sightseeing, camel rides, and local handicrafts, Jaisalmer Fort Palace Museum and Heritage Centre for ancient handicrafts, and the Desert Culture Centre and Museum for interesting puppet shows.
Famous Food-
Enriched by culture and tradition the Golden city has several must-try dishes the most prominent of which is the Pyaz ki Kachori deep fried in oil with spicy onion stuffing. It's perfect for the winter along with a cup of creamy aromatic tea to watch the sun set into the desert sands.
Travel from major cities-
By Air:
Jaisalmer is not directly accessible by air from any part of India. Jodhpur Airport, located some 300 km away from Jaisalmer, is the closest airport to the desert lands. This airport connects Rajasthan with other major Indian cities.
By Train:
Jaisalmer is served by both broad gauge and meter gauge railway tracks. Direct trains from Delhi, Jaipur, and Jodhpur can be easily booked to travel to Jaisalmer. The luxury train Palace on Wheels can also be availed and adds a unique aspect to your trip to Jaisalmer.
By Road:
Jaisalmer serves the rest of India with a well-maintained network of roadways. Deluxe and ordinary buses of Rajasthan Roadways as well as many private operations connect Jaisalmer with Jodhpur, Jaipur, Bikaner, Barmer, Mount Abu, Ahemdabad, etc
10) Wayanad
The gem of Kerala is known for its lush green forests and exotic wildlife. Situated at a high altitude, December is the best month to visit this quaint location with exquisite meadows, powerful waterfalls, and delightful homestays. Chembra Peak, home to Cupid Lake, offers breathtaking views of the Banasura Sagar Dam surrounded by majestic tea plantations. It is the highest peak in the Wayanad hill range and the beauty of the greenery of Western Ghat is at full effect in its surroundings. Another gateway presents itself in the form of Kuruva Island located in the middle of the Kabini river where travelers get to spend the day among the exotic flora and fauna, in the lap of nature. Wayanad Wildlife Sanctuary and Tholpetty Wildlife Sanctuary are other must-visit destinations to go sightseeing among elephants, deer, langurs, panthers, tigers, Indian bison, and the rare Slender Loris in an amazing wildlife safari.
Famous Food-
Fish Moilee is a must-try dish with a bowl of steamed, locally cultivated, Gandhakasala rice to truly soak in its flavors. Prepared with freshly extracted coconut extract along with onions, curry leaves, ginger-garlic paste, mustard seeds, and other spices it is a dish that truly encapsulates the flavors of this beautiful place nestled among the western ghats. Appam and chicken stew, Nandan beef fry, and Payasam for dessert are other choice delicacies.
Distance from major cities-
By Air:
Calicut International Airport, located around 65 km away serves as the nearest airport to Wayanad. Visitors can avail of direct or stopover flights to Calicut from different parts of Kerala as well as the rest of India, depending upon availability.
By Train:
Wayanad district is not connected directly by rail. Visitors can take a train to Kozhikode, the nearest railway station to Wayanad. Quite a number of trains connect Kozhikode with major towns and cities regularly.
By Road:
A wide network of roads provides access to Wayanad from different parts of Kerala as well as Karnataka. Visitors can board KSRTC buses that run up to Kozhikode at frequent intervals from nearby cities like Bangalore, Mysore, Kochi, Chennai, and Trivandrum. Buses to Wayanad are also available.