The Land of the Kings, Rajasthan is embellished with Magnificent Royal forts and palaces, rich and unique culture, golden sand dunes, and bustling, colourful bazaars. The mighty forts and spectacular palaces in Rajasthan speak of royalty and a glorious past. Take a tour of Rajasthan and view iconic forts and palaces and be amazed by its grandeur and craftsmanship. With GoParyatak's Rajasthan Tour packages explore royal palaces, enjoy Rajasthani dances, and folk songs, witness puppet shows (Katputhli shows), and experience cultural treasures. The luxurious resorts in Rajasthan offer unmatched luxury, sheer comfort, and warm hospitality with their premium services. We at GoParyatak can help you experience Rajasthan tourism with our best tour packages that are available at cost-effective prices.
Ideal Duration
8 Nights – 9 Days
Best Season to Visit Rajasthan
October to March
Off-Season
April to September
Nearest Airports
Jaipur International Airport
Maharana Pratap Airport, Udaipur
Jodhpur Airport
Jaisalmer Airport
Bikaner Airport
Kota Airport
Kishangarh Airport
Capital of the state
Jaipur
Neighbouring states
The State borders Punjab to the north; Haryana and Uttar Pradesh to the northeast; Madhya Pradesh to the southeast; Gujarat to the southwest; Pakistani provinces of Punjab to the northwest and Sindh to the west.
Rajasthan is famous for
Historical Royal Forts and Palaces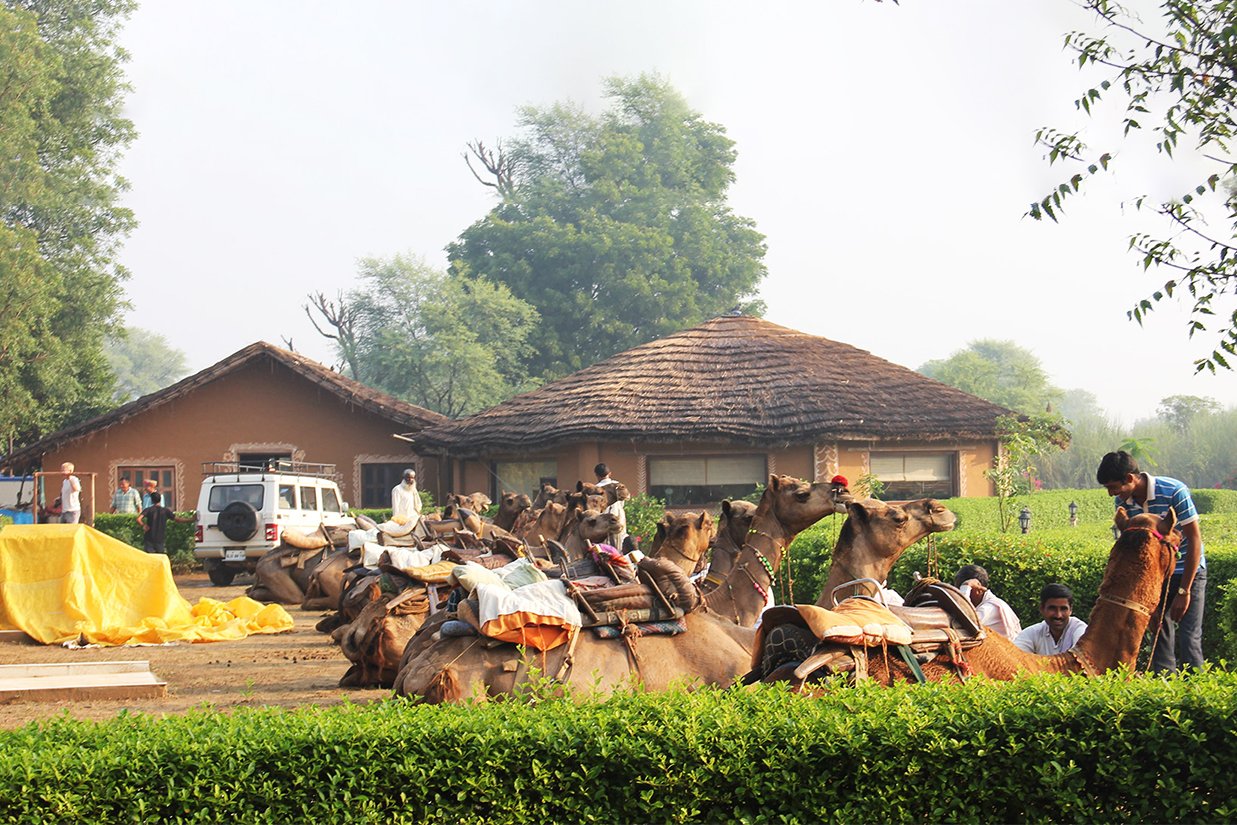 What to buy when you are in Rajasthan
Jewellery and Gemstones
Traditional Paintings
Ethnic Carpets
Blue Pottery
Puppets(Kathputli), Stuffed Dolls, and Toys
Rajasthani Fabrics
Traditional Metal Craftwork
Aromatic Spices
Jodhpuri Juttis
Experiences
What to carry while travelling to Rajasthan
Medical kit (Including the Band-Aids, Medicines for a headache, fever, stomach ache, cold and cough syrup, vomiting/dizziness, enough supply of any special medicine that you require.)
Sunscreen lotion
Light cotton clothes for the days
Sweaters, hoodies, or jackets for nights
Torch with extra cells
Insect repellent
Caps
Umbrellas
Shoes
Sunglasses
Sanitizer
Water Bottle
Snacks
Phone Charger
Adapter
Power Bank
Spacious bags
Enough Cash
Tissue papers
Mouth Fresheners
Flight tickets
Detailed Itinerary.
Famous Places to visit when you are in Rajasthan
Jaipur: Known as, 'The Pink City, Jaipur is the Capital city of the state of Rajasthan. The city is famous for its Royal legacy, traditional craftwork, gemstones, fabrics, etc. City Palace, Jantar-Mantar observatory, Hawa Mahal, Amber Fort, Albert Hall Museum, and Birla Mandir are some of the top places to visit in Jaipur.
Udaipur: Udaipur is one of the most popular cities in Rajasthan. The city is adorned with a rich legacy, vibrant culture, spectacular palaces, and gleaming lakes. Lake Pichola, Fateh Sagar Lake, Udai Sagar Lake, City Palace, Monsoon Palace, Vintage Car Museum, Jagmandir, and Maharana Pratap Memorial are some of the places you must visit in Udaipur.
Jodhpur: Located at the base of the mighty Mehrangarh Fort, Jodhpur is one of the most beautiful cities in Rajasthan. Jodhpur bursts with the traditional blue color and charms every traveller with its marvellous architecture. Mehrangarh Fort, Umaid Bhavan Palace, Jaswant Thada, Mandore Gardens, Royal Cenotaphs, Ghanta Ghar, Sadar Bazar, Balsamand Lake, Masuria Hills, and, Sardar Samand Lake & Palace are some of the best places to visit in Jodhpur and you must include these places in your Jodhpur holiday packages.
Jaisalmer: Located in the heart of the golden Thar Desert, Jaisalmer is one of the prominent cities to visit in Rajasthan. Beautiful havelies, golden sand dunes, magnificent forts, and, palaces allow you to witness the majestic charm of Jaisalmer. Jaisalmer Fort, Patwon-Ki-Haveli,  Bada Bagh, Gadisar Lake, Thar Heritage Museum, and Salim Singh Ki Haveli are the places you must visit in Jaisalmer.
Sam Sand Dunes in Jaisalmer: Located on the outskirts of Jaisalmer city, it is one of the popular tourist spots in Jaisalmer. Tourists can enjoy Camel safari, jeep safari, traditional folk dance, and music shows. There several options for adventure lovers like Quad biking, Parasailing, Para Motoring, Dune bashing, etc., to explore while enjoying the desert safari.

Pushkar: Pushkar is a small town in Rajasthan, popular for the world-famous 'Pushkar Mela' and Brahma temple. The heritage of marvellous architecture makes Pushkar a must-visit place on the Rajasthan tour. The Pushkar Mela attracts tourists from all over the world with its fascinating celebrations. Adventure activities, cultural and musical events, camel safaris, and a stay in the traditional yet modern camps are the major attractions of Pushkar Mela. The Pushkar Mela is a treat for those who wish to experience the vibrant culture and traditions of Rajasthan.
Things to keep in mind while travelling to Rajasthan
Avoid alcohol and smoking.
Protect yourself from the cold and the sun (Carry a hat, sunglasses, sunscreen lotion).
Kindly appoint licensed guides for sightseeing who owns a valid ID card.
The tour confirmation voucher in printed format is necessary for check-ins at the hotels.
The entry tickets and activity charges at sightseeing places will have to be avail by a guest on his/her arrangement and expenses.
The meals included in the package will start from the dinner on Day One which will be served at the restaurants of the hotel of stay. The enroute meals have to be avail by a guest on his/her arrangement and expenses. 
There are many hotels along the way, most of which cater well to vegetarian travellers.
Once the package is booked & confirmed no refund will be entertained.
The guests are advised to maintain the schedule given for the sightseeing/transfer.
We reserve the right to make changes or omit any place of a visit, if it becomes necessary due to bad weather, bad road conditions, etc.
The guests are advised to inform if the guests are senior citizens or have health-related issues (like arthritis, heart problems, etc.) or any such matter which might need special arrangements. Some itineraries will not be suitable for them.
The security concerns, driver's working hours, etc. will be kept in mind while planning the tour and sightseeing. 
We try to ensure that the sightseeing points do not fall on a closing day. In case due to an inevitable situation, if the sightseeing falls on a closing day, it will have to be left out. Conducting that particular tour or sightseeing point the next day will be subject to time availability.
Things to avoid while travelling to Rajasthan
Do not carry unwanted baggage.
Avoid Smoking and drinking.
Do not swim in rivers, lakes, or glaciers.
Avoid the use of slang and touching the locals while talking and maintain a healthy distance when in and around the city.
Do not point at people.
Avoid wandering alone at night.
Stay away from drugs
Local languages used in Rajasthan
Hindi
Rajasthani
Marwari
Mewari
Brajbhasha
Bagri
English
ID Documents to carry while traveling to Rajasthan
Indians: Four passport size photos and Original Photo ID proof with photocopy like passport, voter's ID card, driving license.
Foreigners: Passport, valid visa, Overseas Citizen of India (OCI).
Regional public holidays in Rajasthan
The Sightseeing point remains closed on
Central Government and Bank National Holidays