Dapoli is a small town in the Ratnagiri district, being the beautiful beach village as it has always been. It is not only about historic forts, temples, beaches, and an agricultural college but also about being a muse to books like "Garambicha Bapu" and "Shyamachi Aai". Recently it has come forward as a "Mini-Mahabaleshwar" alluring to its cool climate throughout the year. Unhavare hot springs, Panhalakaji Caves and Parshuram Bhumi are some places with wide tourists' interest.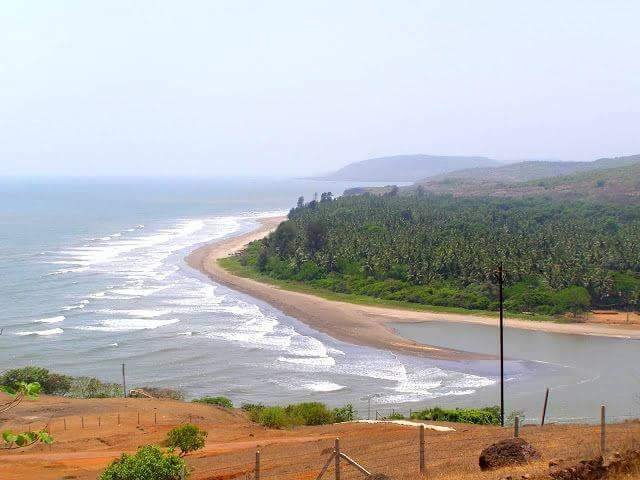 Velas, a serene beach town, around 50 km from Dapoli, recently came into the limelight due to the Turtle Festival held here in the summertime. It is actually the breeding season of Olive Ridley Turtles, and this festival is held with the purpose to protect such rare cute creatures. Kelshi, which was known only for its 350-year-old Mahalakshmi temple and beautiful beach earlier, is now an Internationally acclaimed beach. The oldest sand dunes formed by the tsunami in September 1524 have been found here. Kelshi is also significant for the treasures of shells, cowries and conches found here.
Majorly a fishing town, Harnai is just 15 km far from Dapoli. Harnai beach is named "Maharshi Karve" beach as Dapoli is the birthplace of Maharshi Karve. Harnai fort, Suvarnadurga, also renowned as "Shivaji of the Sea", is the oldest fort surrounded by 3 other small forts. Though almost in ruins, the history attached to it and the interesting story that comes along make the visit totally worth it. Ladghar beach has earned the title of Tamasteerth, for its reddish muddy water. It is also popular for dolphin spotting and water sports like water scooters. Murud and Kolthare are among the lesser-known tranquil beaches, best for family picnics.
Karde is one of the safest beaches in Konkan, with mixed white and black sand, largely preferred for bird watching and dolphin rides in the deep sea. Dabhol beach is a pristine one and is also well known for Dabhol fort and Dabhol power plant. Anjarle beach has the " Kadyawarcha Ganapati" temple, dating back to 1150 AD, having a rare Ganesha idol with the right trunk. Guhagar is noteworthy for its 6 km long stunning sand stretch garnished by Coconut trees, Betel nuts, and Alphonso mangoes. The name Guhagar literally translates as "Cave House". Vyadeshwar temple, which is right in the center of the town, and Ufrata temple mark its religious space. "Paschima" is the spot, where you can purchase all Kokam products.
Just 14 km from Guhagar, the town of Anjanvel stands for Gopalgad fort, a lighthouse built at the steep ridge, and Talkeshwar temple nearby. On the same road, just some km far is the rock-free beach in the town of Velneshwar, also notable for the 1700 year's old Velneshwar temple. Hedvi, barely at 17 km from Guhagar, has a natural huge gorge, Bahmanghal, a worth watching spot. There is also the Dashabhuja Ganesha temple created in marble stone found in Kashmir. Dapoli and surrounding Konkan await your visit to let you enjoy your vacation to the fullest.