Himachal Pradesh –The Land of Snow
"To move, to breathe, to fly, to float,
To gain all while you give,
To roam the roads of lands remote,
To travel is to live".
-Hans Christian Anderson
These lines truly speak a Wanderlust's heart. Finding an escape from the usual hustle-bustle and monotonous life and experiencing some joyous moments – it's what holidays are made for.  One of the most scenic states of India, Himachal Pradesh can be the most relaxing getaway for you. Nestled in North India, Himachal is a blend of snow-capped mountains, crystal clear rivers, lush green meadows, dazzling waterfalls, and gigantic Deodars, truly a nature lover's delight! For the adventurer in you, you can try on various sports and activities like River Rafting, Ice-skating, Paragliding, etc. If you are looking for places to visit in Himachal Pradesh then this is a must-read. Do keep this guide handy to be sure that you don't miss out on any of the wonderful places and experiences the state offers. We, at, GoParyatak can assist you to plan the perfect vacation in Himachal Pradesh with cost-effective tour packages.
Destination
Himachal Pradesh
Ideal Duration
8 Nights – 9 Days
Ideal Season to visit Himachal Pradesh
 February to June 
Off-Season to visit Himachal Pradesh
July to November
Connectivity
By Air
Bhuntar Airport – Kullu Manali
Gaggal Airport – Kangra
Jubbarhatti Airport – Shimla
By Road
Interstate bus /Volvo bus services are available from Delhi, Chandigarh, Jaipur, and other neighboring cities.
Capital of the state
Shimla and Dharamshala
Neighbouring states
The state borders the union territories of Jammu and Kashmir and Ladakh to the North, Punjab to the west, Haryana to the southwest, Uttarakhand and Uttar Pradesh to the south, and the Tibet Autonomous Region in China to the east.
Famous for
Serene lakes
Snow-clad mountains
Lush Green Forests
Crystal clear rivers
Colonial-era Architecture
Buddhist Monasteries
Churches
Tibetan Architecture
Apple, Pear Orchards
What to buy
Shawls, Woollens, and Blankets
Himachali caps
Traditional Himachali Jewellery
Tibetan Jewellery
Woodwork sculptures
Handicrafts
Pottery items
Apples, pears, and various other fruits
Experiences
River Rafting
Still Water Sports
Ice-skating
Paragliding
Skiing
Heli-skiing
Golfing
Jeep/Vehicle safari
Day Hikes
Mountain-biking
Horse riding
Camping by lakes and valleys
What to carry while traveling
Medical kit (Including the Band-Aids, Medicines for a headache, fever, stomach ache, cold and cough syrup, vomiting/dizziness, enough supply of any special medicine that you require.)
Sunscreen lotion
Torch with extra cells,
Insect repellent
Warm jackets
Thermal wear/Sweaters
Woollen socks
Scarf/muffler
Caps
Umbrellas
Shoes
Sunglasses
Sanitizer
Water Bottle
Snacks
Phone Charger
Adapter
Power Bank
Spacious bags
Enough Cash
Tissue papers
Mouth Fresheners
Flight tickets
Detailed Itinerary
Famous places to visit in Himachal Pradesh
Snowy mountains, Pristine Rivers, lush green valleys, and Dazzling apple orchards, are all waiting to welcome you to one of the most spectacular places on this Earth. Himachal Pradesh houses some of the mesmerizing places that you must visit at least once in your lifetime. Here is a list of Top places to visit in Himachal Pradesh.
Shimla: Shimla, the capital city of Himachal Pradesh is known for its picturesque landscapes, marvellous colonial buildings, and Churches, built in a Victorian style. The Viceregal Lodge (Rashtrapati Niwas), Christ Church, Shri Hanuman Jakhoo Temple, Mall road, Neo-Gothic Gorton Castle, and Himachal State Museum are some of the top places to visit in Shimla.
Kufri: Located 20 km away from Shimla, Kufri is a beautiful town, surrounded by stunning snow-capped mountains and lush greenery. It offers various scenic locations and numerous adventurous sports and activities.
Kalka Shimla Toy Train: The mesmerising route takes you through lush greenery offering incredible scenic views. Embark on a journey and indulge in a spectacular view of the nature around you.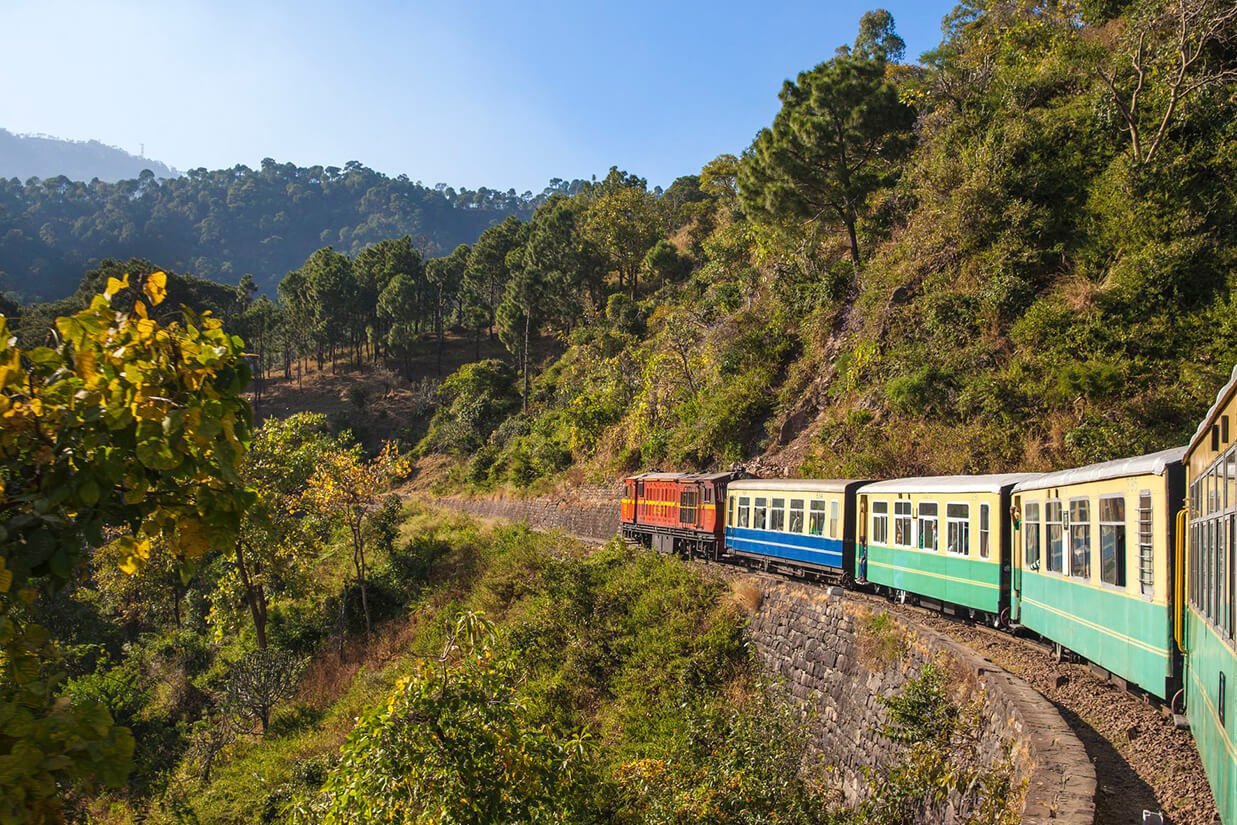 Thanedar:  Visit this beautiful, serene town, nestled among apple and cherry orchards to experience the raw beauty of nature. Located 80km away from Shimla, Thanedar is definitely among the Top places to visit in Himachal Pradesh.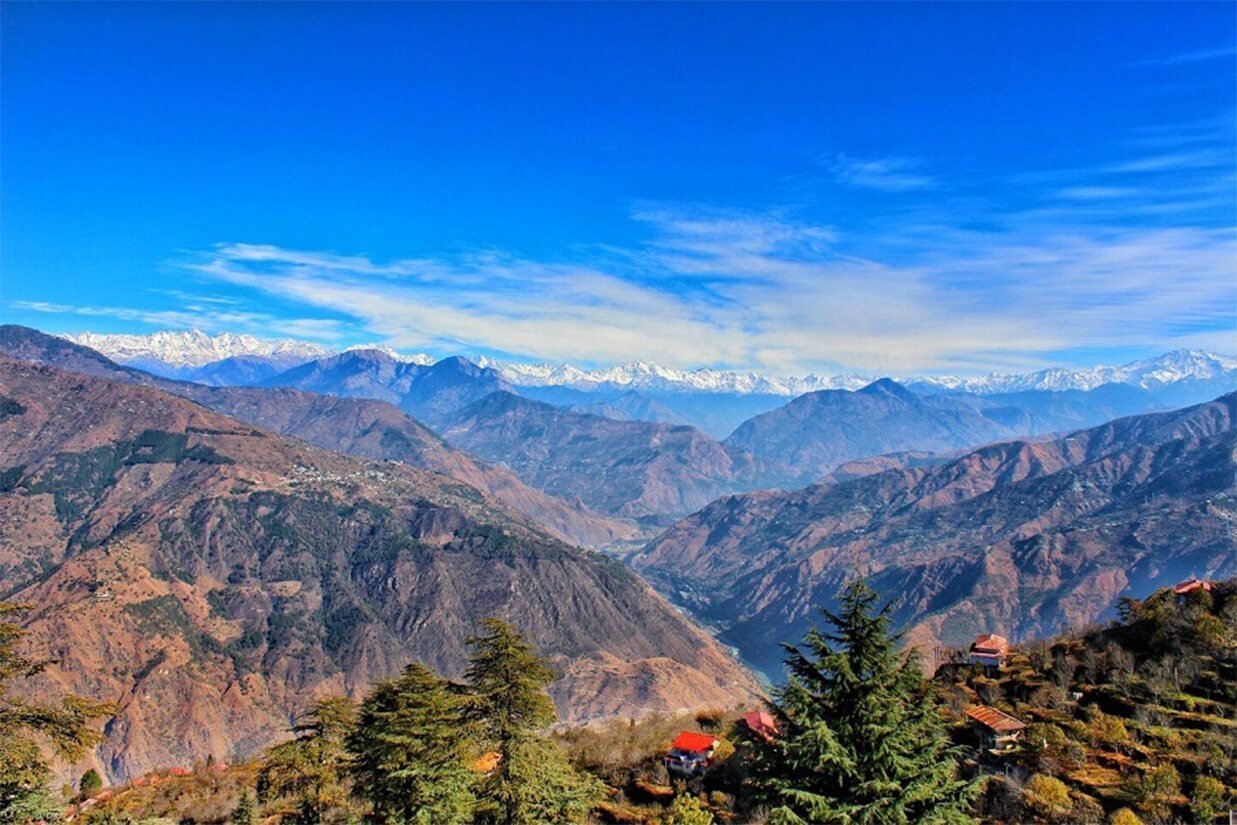 Manali: Located in the Kullu district, Manali is a beautiful hill station with an alluring atmosphere, snow-covered mountains, Pine trees, and lush greenery. It is a popular destination amongst honeymooners and adventure enthusiasts. Places like Solang Valley, Vashisht Hot Water Springs, Hidimba Devi Temple, Bhrigu Lake, Manali Bird Sanctuary, and Naggar Castle are the famous places to visit in Manali among the tourists. Adventure lovers can indulge themselves in adventure sports like skiing, river rafting, paragliding, and trekking.
Spiti: The picturesque town, Spiti, is situated between India and Tibet. The spectacular landscapes, colorful Monasteries, and pristine lakes make Spiti, one of the top destination
s in Himachal Pradesh. Known as the 'Little Tibet', Spiti is the epitome of natural beauty.
Dharamshala: One of the star highlights of Himachal Pradesh Tourism, Dharamshala, is the residence of the Dalai Lama. Tall pine trees, dazzling waterfalls, and beautiful Monasteries add extra glitter to the beauty of Dharamshala.
Mcleodganj: Known as 'Little Lhasa of India', Mcleodganj is a beautiful serene town. When in Mcleodganj, one can enjoy shopping from markets famous for Tibetan carpets, handicrafts, Thankas, etc.
Dalhousie: A fascinating hill station, spread across five hills, Dalhousie is one of the most spectacular places in Himachal Pradesh. It houses snow-capped mountains, crystal clear rivers, lush green valleys, and marvellous Colonial-Era Architecture. Dalhousie offers a resplendent view of the sunrise and sunset.
Chamba:  Chamba, the vibrant valley of Himachal offers a breath-taking view of sparkling rivers, dense pine forests, snowy mountains, and diverse wildlife. The valley is famous for marvellous temple architecture, astonishing miniature paintings, and beautifully embroidered Chamba Rumal.
Khajjiar: Situated in a Chamba district, Khajjiar is fondly compared with Swiss mountain meadows. Khajjiar is a quaint settlement surrounded by snow-topped mountains and dense pine forest.
Palampur: Located in the Kangra district of Himachal Pradesh, Palampur charms you with its pristine natural beauty. Palampur has thousands of Tea gardens and enchanting dense deodar forests. Bajinath temple, Chamunda Devi temple, and Tashi Jong Monastery are some of the famous places to visit in Palampur. It offers various adventurous sports like river rafting, paragliding, skydiving, etc.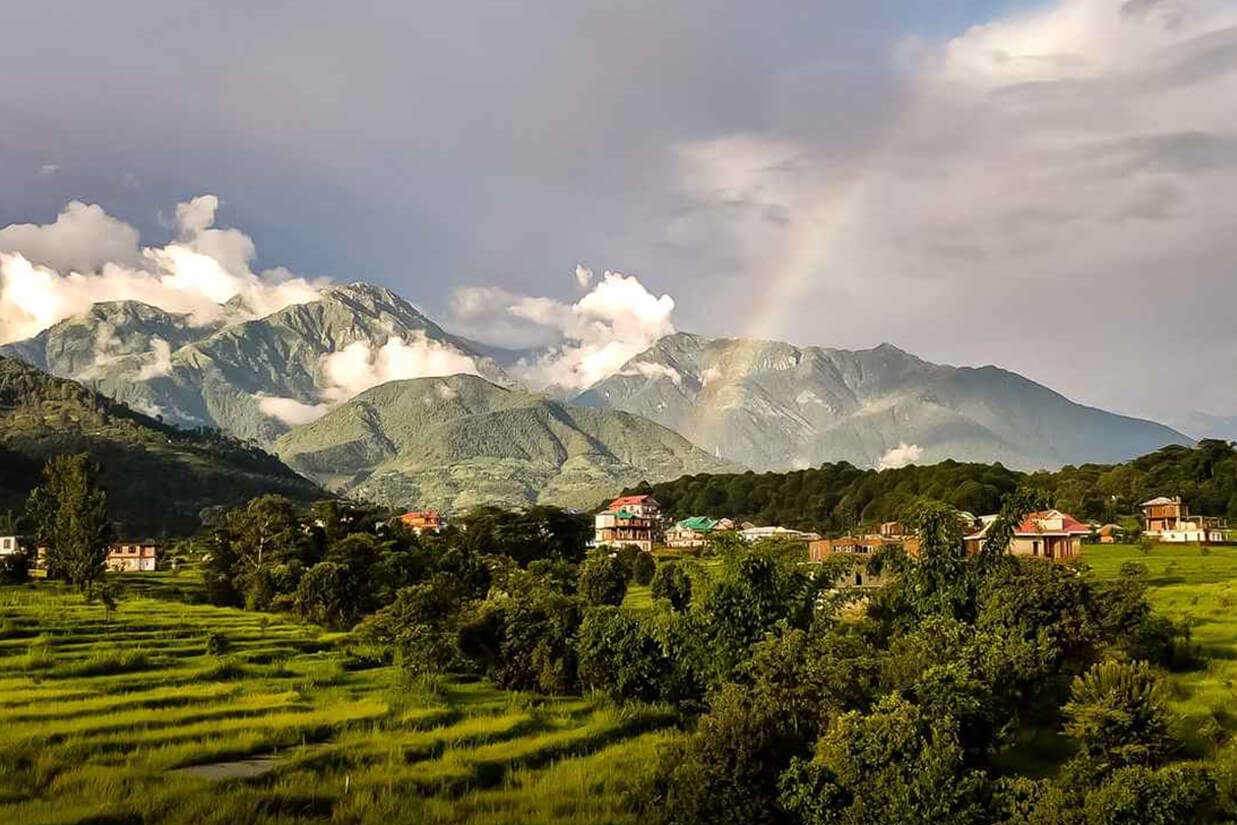 Solang Valley: Situated between Beas Kund and Solang village, Solang valley offers spectacular views of magnificent mountains, groves of green trees, and crystal clear streams, which is a treat to the eyes. Enjoy the pristine beauty over the picturesque valley by taking a cabin ride on a Solang Ropeway.
Manikaran: Situated deep within the Parvati Valley of Kullu in Himachal Pradesh, the Manikaran Sahib is a natural marvel. Manikaran is full of hot boiling water that is rich in Uranium and radioactive substances. The water of the spring is hot enough to boil rice and other food. The water is considered auspicious and said to have healing properties for the human body that can cure skin and other disorders.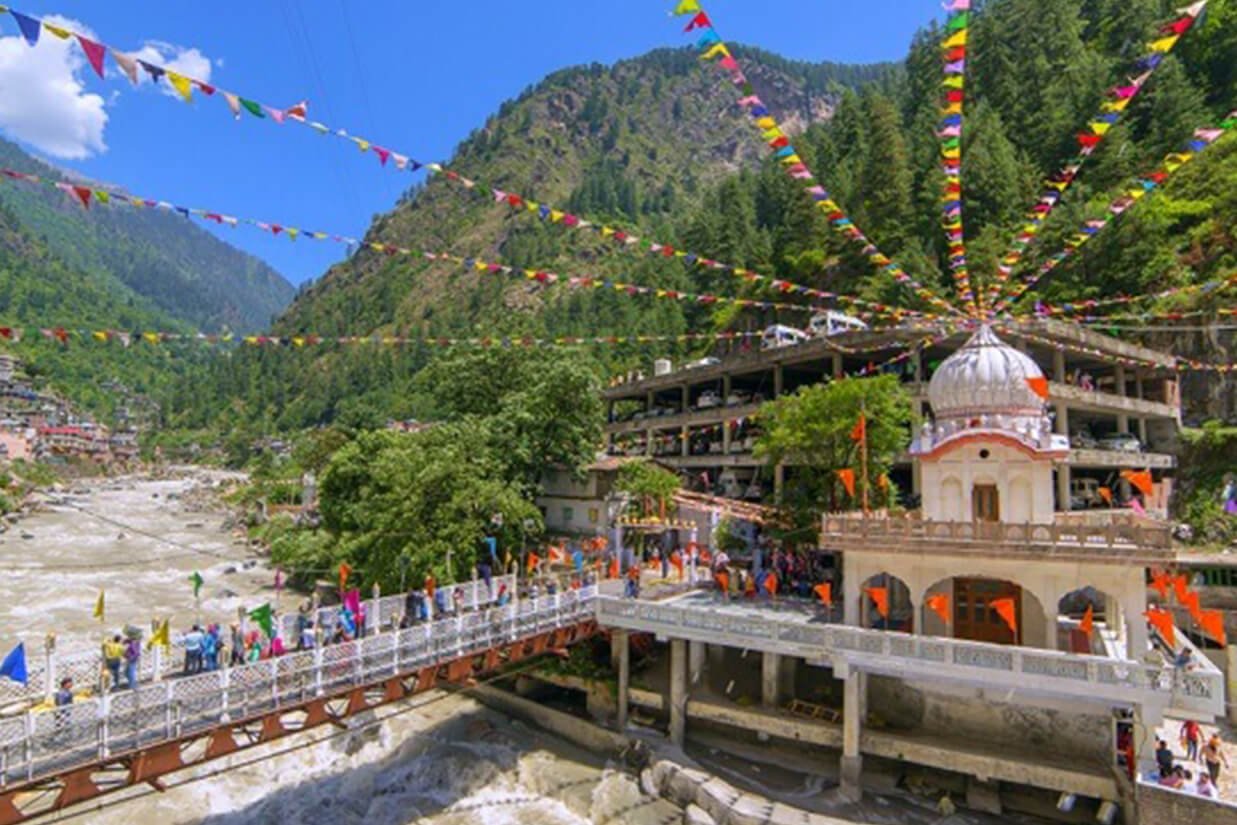 Jibhi:  Jibhi is one of the hidden gems in Himachal Pradesh, located on the scenic Chandigarh-Manali highway. This quaint hamlet has some extremely beautiful Victorian pinewood cottages for people to enjoy and relax.
Things to keep in mind while travelling in Himachal Pradesh
The tour confirmation voucher in printed format is necessary for check-ins at the hotels.
Guests willing to take adventure activities are advised to inform local authorities and seek necessary permissions.
The entry tickets and activity charges at sightseeing places will have to be avail by a guest on his/her arrangement and expenses.
The meals included in the package will start from the dinner on Day One which will be served at the restaurant at the hotel of stay. The enroute meals have to be avail by a guest on his/her arrangement and expenses.
The guests are advised to maintain the schedule given for the sightseeing/ transfers.
We reserve the right to make changes or omit any place of a visit, if it becomes necessary due to bad weather, bad road conditions, etc.
The guests are advised to inform if the guests are senior citizens or have health-related issues (like arthritis, heart problems, etc.) or any such matter which might need special arrangements. Some itineraries will not be suitable for them.
The security concerns, driver's working hours, etc. will be kept in mind while planning the tour and sightseeing.
We try to ensure that the sightseeing points do not fall on a closing day. In case due to an inevitable situation, if the sightseeing falls on a closing day, it will have to be left out. Conducting that particular tour or sightseeing point the next day will be subject to time availability.
The mesmerizing Nature and eco-friendly atmosphere are the region's prime tourist interests. The facilities available here cannot be matched with other developed destinations.
Things to avoid while traveling to Himachal Pradesh
Do not carry unwanted baggage.
Avoid Smoking and drinking.
Do not swim in rivers, lakes, or glaciers.
Avoid the use of slang and touching the locals while talking and maintain a healthy distance when in and around the city.
Do not point at people.
Avoid wandering alone at night.
Stay away from drugs.
Local languages
ID Documents to carry
Indians: Four passport size photos and Original Photo ID proof with photocopy like passport, voter's ID card, driving license, Inner Line Permit to visit certain parts of Kinnaur district and Spiti District, etc.
Foreigners: Passport, valid visa, Overseas Citizen of India (OCI). Inner Line Permit to visit certain parts of Kinnaur district and Spiti District etc.
Suitable airlines
NA
Public Holidays (Regional)
The Sightseeing points remain closed on Central Government & Bank National Holidays.