Complete Guide To Thailand Tourism: Everything You Need To Know
Thailand, a country located in Southeast Asia is one of the most popular destinations in the world. With its natural and cultural marvels, Thailand offers you a multitude of incredible experiences. Thailand is one of the favorite wedding and Honeymoon destinations in the world. Every year, tourists from all over the world visit Thailand to experience Thai hospitality, Mesmerizing beaches, and islands, a plethora of entertainment activities, cultural events, cruises, shopping, meditation, medical tourism, Thai food, and Culinary experience, etc.
Thailand is one of the most desired International travel destinations for Indian travelers in the world. Quality and affordable luxury destinations, Visa on arrival, proximity to India, Pristine beaches and islands, and Thai Cuisine are some of the reasons why Thailand tops the list of the most favorite travel destinations for Indian tourists.
Ideal Duration:
9 Nights – 10 Days
Best Season to Visit Thailand:
The ideal season to Visit Thailand is December to March.
Off-Season:
April to August
Airports in Thailand:
• Suvarnabhumi Airport (Bangkok Airport)
• Don Mueang International Airport
• Phuket International Airport
• Chiang Mai International Airport
• Mae Fah Luang –Chiang Rai International Airport
• Hat Yai International Airport
Capital of Thailand: Bangkok
Neighboring Countries:
Thailand is surrounded by Myanmar (Burma) to the west, Laos to the north and east, Cambodia to the southeast, and the Gulf of Thailand to the south.
Currency of Thailand:
The official currency of Thailand is the Thai baht.
Thailand is famous for:
• Pristine beaches
• Magnificent monasteries
• Spectacular Royal Palaces
• Ancient temples
• Lip-smacking Thai Cuisine
• Plethora of Entertainment activities
• Jungle Safari
• Elephant Sanctuaries
What to buy when you are in Thailand:
• Thai Silk
• Thai Carvings
• Thai Furniture
• Thai handicrafts, art, and home decor
• Thai Spa products
Experiences:
• White water Rafting
• Mountain biking
• Rock Climbing
• Trekking
• Sailing
• Canoeing
• Yachting
• Sea-Kayaking
• Diving
• Snorkeling
• Nature study (Bird-watching)
• Elephant Trekking
• Thai Festivals
• Numerous Entertainment Activities
• Play with water during Songkran Festival (This Festival is celebrated between 13 to15 April every year.)
• Visiting Jui Tui Shrine in Phuket (center stage for the famous annual Phuket vegetarian festival).
What to carry while traveling to Thailand:
• Medical kit (Including Band-Aids, Medicines for a headache, fever, stomach ache, cold and cough syrup, vomiting/dizziness, and enough supply of any special medicine that you require.)
• Sunscreen lotion
• Light cotton clothes for the daytime.
• Sweaters, hoodies, or jackets for the night.
• Torch with extra cells
• Insect repellent
• Caps
• Umbrellas
• Shoes
• Sunglasses
• Sanitizer
• Water Bottle
• Snacks
• Phone Charger
• Adapter
• Power Bank
• Spacious bags
• Tissue papers
• Mouth Fresheners
• Flight tickets
• Detailed Itinerary.
Top 10 Cities To Visit In Thailand:
• Bangkok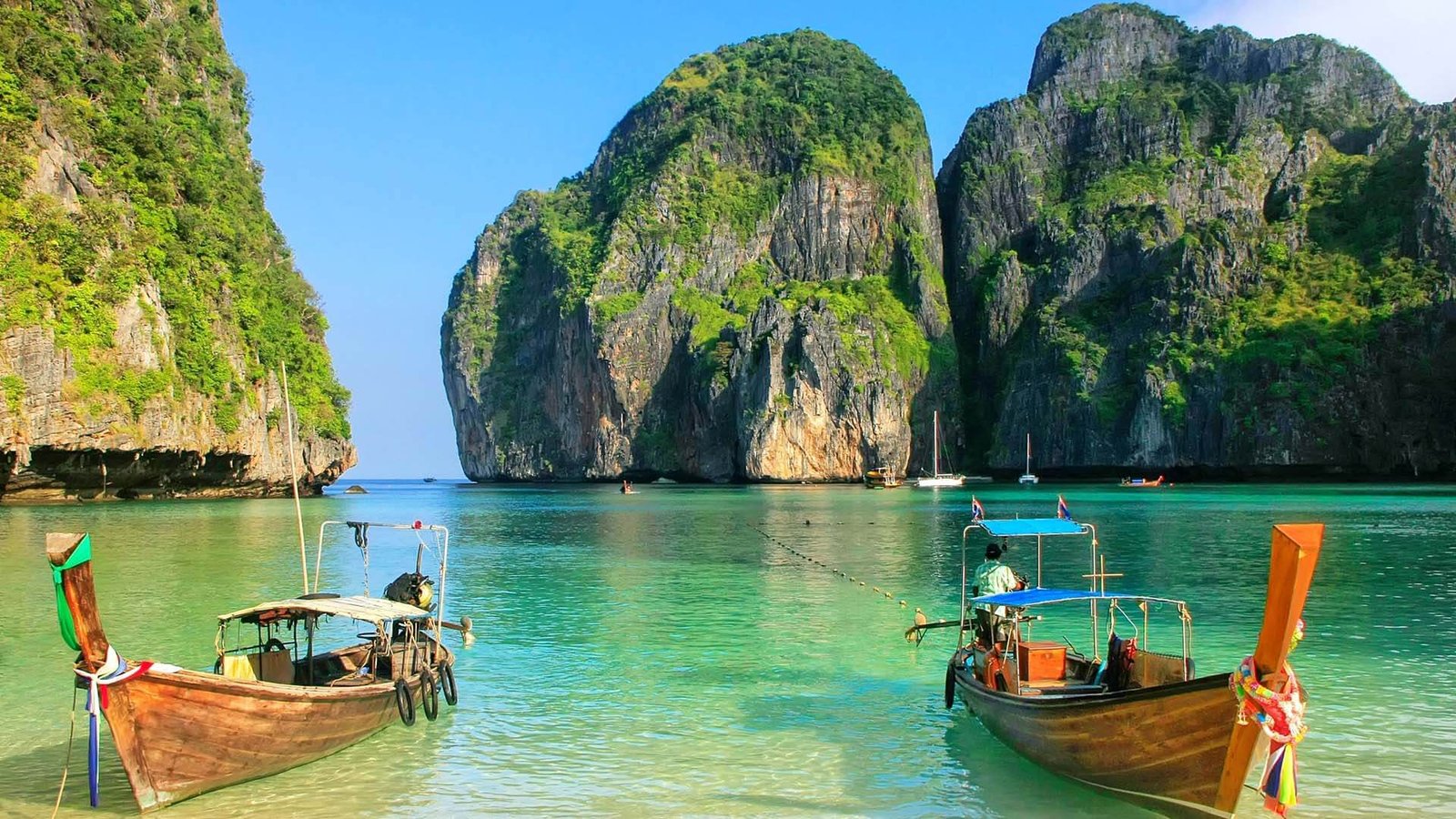 Bangkok or Krung Thep is the capital city of Thailand. The city is a bustling metropolis with rich culture and heritage. With its Political, Economic, Cultural, and Culinary significance, Bangkok is a beautiful amalgamation of the old and new. Bangkok has centuries-old temples, a magnificent Grand palace, towering skyscrapers, colorful taxicabs, and lavish shopping malls that amaze its visitors with their surprising contrast between the old and new world.
The tourists who travel to Bangkok are amazed by the sheer size of the city and the wide variety of attractions and sightseeing opportunities Bangkok has to offer.
Grand Palace, Wat Arun, (Wat is the Thai word for Temple), Wat Phra Kaew, Khaosan Road, Wat Pho, The Bangkok National Museum, Vimanmek Mansion, Erawan Shrine, Jim Thomson Park, Lumpini Park, and Benjakitti National Park are some major places to visit in Bangkok. One must explore some interesting places in Bangkok, such as Madame Tussauds, Chao Phraya River Boat Trip, Sea Life Bangkok Ocean World, Floating Market, China Town, Siam Paragon Mall, etc.
Bangkok has also been known for its massage parlors and nightclubs. But there is much more in store and numerous places offering unmatched experience and fun are proof of that.
To know more about the City, feel free to contact us at goparytak@gmail.com.
• Chiang Mai
A beautiful city, Chiang Mai is marked with Dense Rainforests, dazzling waterfalls, lush green valleys, big national parks, centuries-old Pagodas and temples, colorful markets, and distinguished elephant sanctuaries. Chiang Mai is a wonderful combination of old and new. The city has ancient temples and pagodas, some modern convenience stores, hotels, and a plethora of adventure activities.
A visit to an elephant sanctuary is one of the top attractions in Chiang Mai. The Elephant Nature Park is one of the first sanctuaries set in Chiang Mai province to provide a rescue center and shelter to distressed elephants. The sanctuary hosts elephants, dogs, cats, buffaloes, and other rescued species. The sanctuaries provide a safe place for elephants who have been abused and tortured for the sake of tourism and other gains. Watching Elephants eating, roaming, and playing freely is quite an experience for every visitor.
Hiking and Trekking at Thailand's highest mountain, Doi Inthanon, exploring and shopping at Chiang Mai Night Bazaar, Attending festivals like Songkran and Loi Krathong, and Hiking at Doi Inthanon National Park are some of the best experiences one must indulge in when In Chiang Mai.
• Hua Hin
A perfect combination of Sea and City, Hua Hin features Soft Sandy Beaches, temples, mountains, a lively night market, water parks, luxury resorts, and relaxing spa- retreats. There are numerous activities and places to explore in Chiang Mai when you are with your family. Santorini Park Chaam, Vana Nava Water and Amusement Theme Park, Sam Roi Yod National Park, Golf Clubs, The 4-D Museum (For Art's Sake), A stylish beachfront mall( Seenspace Hua Hin) are some of the major attractions that are counted among some of the most famous places in Hua Hin. Easily accessible via Train, Bus, or Car, Hua Hin is a great place to experience authentic Thai Culture and cuisine.
• Phuket
Surrounded by the Andaman Sea, Phuket is embellished with rich culture, heritage, architecture, and historical monuments. Tourists worldwide flock to Phuket for its exotic beaches, emerald blue water, rich golden sand, beautiful cafes, shacks, and villas, and to engage in adventurous sports like snorkeling, jet skiing, honor cat sailing, parasailing, etc.
With more than 30 beaches around, Phuket is a paradise for Beach lovers. Patong beach, Kata beach, Kata Noi beach, Mai Khao beach, Banana beach, Surin beach, Freedom beach, and Paradise beach are some of the stunning beaches that truly justify the identity of Phuket as a beach Paradise,
Phi Phi Islands, James Bond Island, Coral Island, Similan Island, Karan Vient, Rang hill, Baan Tilanka, Jui- Tui Chinese Temple, etc., are some of the best sightseeing places in Phuket. Experiencing the nightlife, attending the FANTASEA show, and Street –shopping are some of the essential activities to do in Phuket. This Charismatic Island has numerous seaside restaurants, nightclubs, and discos making Phuket one of the best party hotspots.
• Pattaya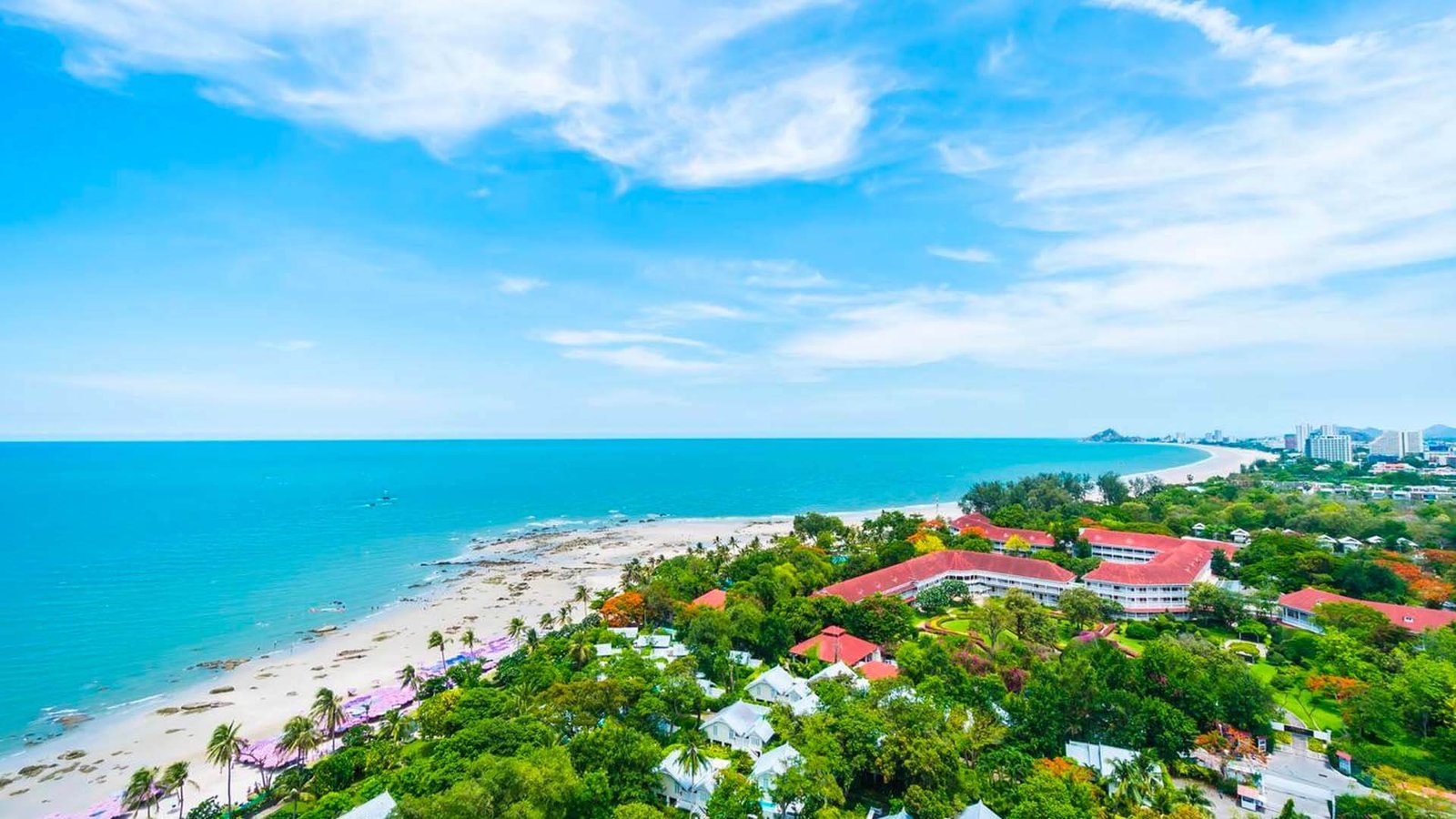 Known as 'The Party Capital of Thailand', Pattaya is located on the east coast of Thailand. It is a popular tourist place in the world, especially among bachelors and couples for its culture of nightlife and beaches. But the city offers a wholesome family vacation too. The city has numerous theme parks, fun museums, and interesting activities for kids and a family to have unlimited fun. The city offers several entertainment venues on walking streets and beaches.
Nong Nooch (A 17th-century French Garden), the Sanctuary of Truth (The massive monument built entirely of wood), Wat Yansangwararam, Wat Phra Yai (an 18-meter-tall golden statue of the Buddha), Mini Siam, Sriracha Tiger zoo and Underwater World are some of the places one should not miss to visit when in Pattaya.
• Krabi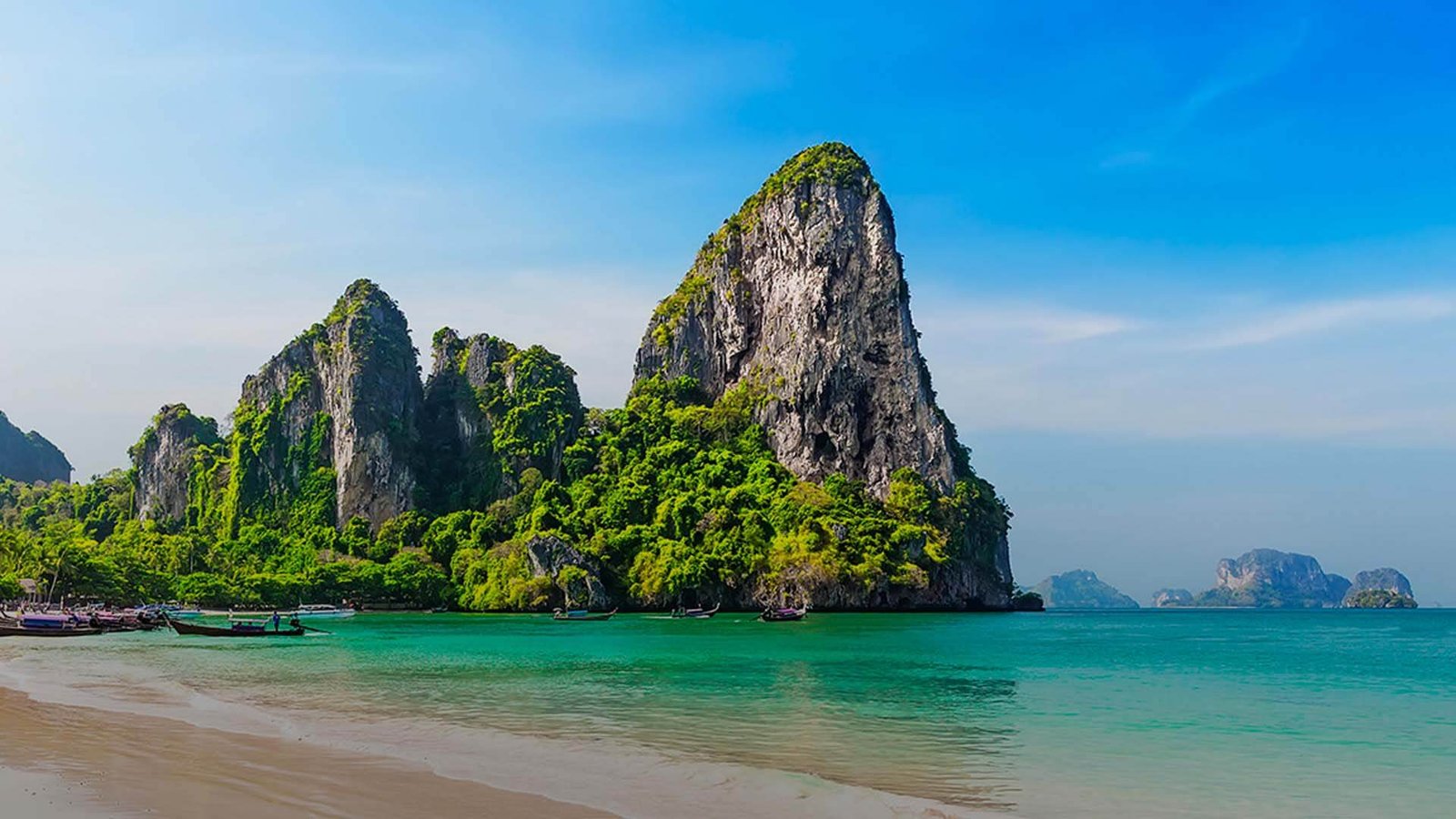 Located in southern Thailand, Krabi is a great place to relax and holiday away from crowded cities. Krabi province has around 80 smaller islands, popular tourist destinations to unwind and relax. For those who want a holiday in a peaceful place, Krabi is a great place to be at. It is famous for white sand beaches, a great variety of Flora and fauna, soothing nature, fresh air, and cave systems. Krabi offers great shopping opportunities and a wide range of adventure sports that make tourists stay a little longer.
• Ayutthaya
A UNESCO Heritage Site, Ayutthaya is an ancient city that demonstrates rich culture and heritage. It was the capital city of Thailand until it was burned and damaged by the Burmese Army in 1767. Despite the massive destruction, the huge temples and stucco towers surprise their spectators with their sheer grandeur and magnificence. Wat Chaiwatthanaram and Wat Mahathat are some of the best-known attractions in Ayutthaya.
• Kanchanaburi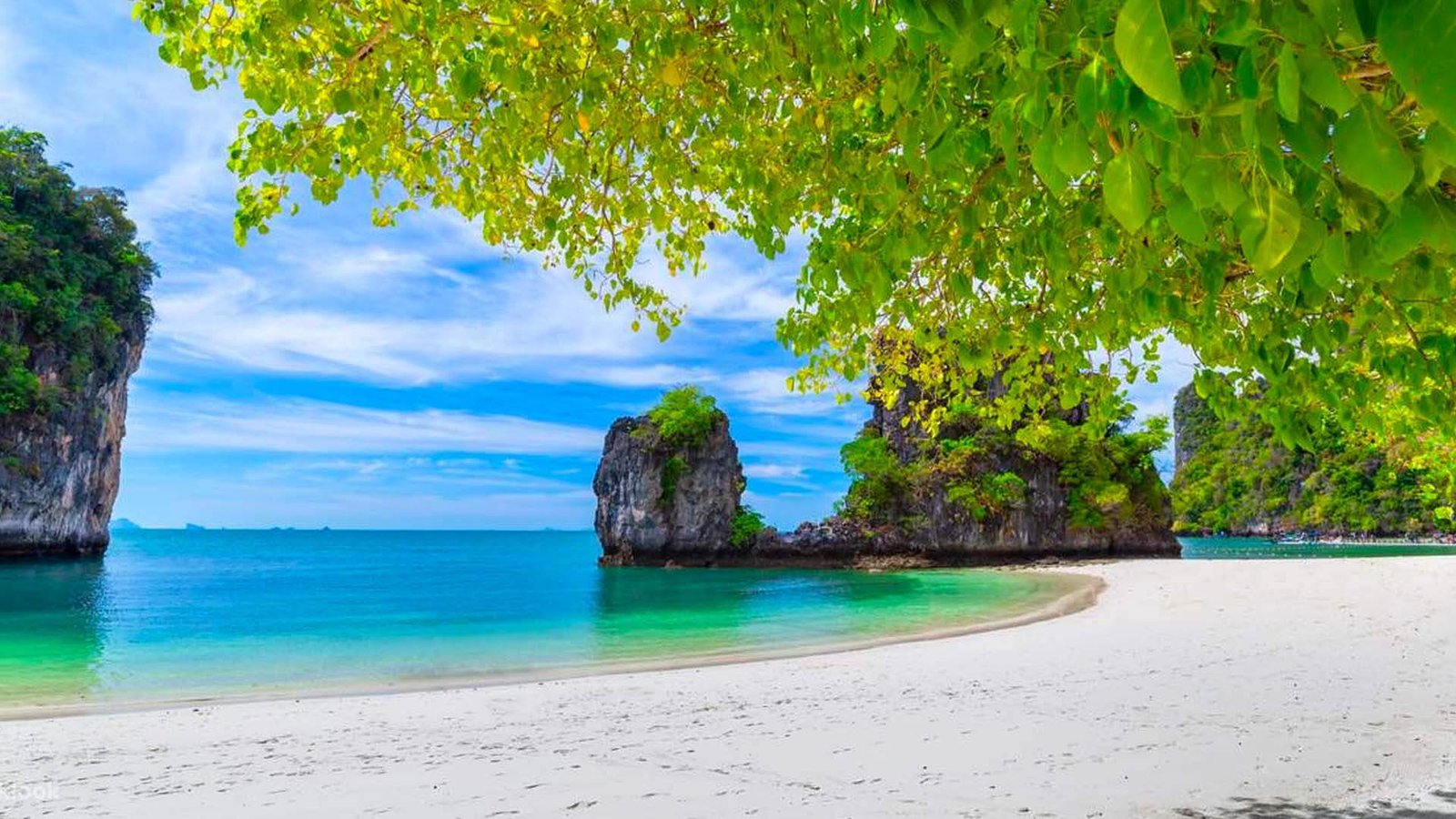 A Picturesque town located at the confluence of rivers Kwae Noi and Kwae Yai, Kanchanaburi is surrounded by lush green forests and spectacular waterfalls.
One of the most visited places in Kanchanaburi is the 'Railway Bridge over the River Kwai'. The Japanese built the bridge during WWII using prisoners of the war as the labor force. The bridge would connect Thailand to Burma. During the construction and reconstruction of the bridge, more than 12,000 Allied prisoners died in tragic accidents. Though the Burma railway was never finished, visitors today can take a ride on the regular local train that crosses over the bridge. Kanchanaburi War Cemetery, Thailand-Burma Railway Center, Wat Tham Phu Wa temple, Erawan National Park, and Erawan falls are some other prominent places to visit in Kanchanaburi.
• Pai
A quaint scenic town, Pai is located on the banks of the River Pai. This serene mountain town is one of the most beautiful destinations to visit in Thailand. Walking Through Pai Canyon, Swimming in The Sai Ngam Hot Springs, Exploring Pai's Walking Street Night Market, Visiting awesome waterfalls such as Pam Bok, and Mo Paeng, Visiting The White Buddha On Top Of The Hill (Wat Phra That Mae Yen), Visiting Tham Lod Caves, Going whitewater rafting, etc. are some of the epic things to do when in Pai.
• Chiang Rai
The mesmerizing town of Chiang Rai, is located near the borders of Laos and Myanmar. Chiang Rai is famous for its spectacular temples, national forest parks, museums, and gardens. The iconic White temple, Wat Rong Khun, known for its intricate details, the black house famous for its Gothic Architecture, and Mae Fah Luang art and culture Park famous for its antique and contemporary art, Buddhist temples, and other structures, are some of the must-visit places in Chiang Rai. Hilltribe Museum & Education Center, Wat Phra Kaew, Oub Kham Museum, and Tham Tu Pu & Buddha Cave are some other famous Touristy spots in Chiang Rai.
Things To Keep In Mind While Traveling To Thailand
• To have a safe trip in Thailand respect the sentiments of locals regarding their king and refrain from any conversation that is directly related to the king and kingdom.
• The guests are advised to dress accordingly when visiting sacred places, and temples in Thailand. Visitors are required to have their shoulders and legs covered, so plan your outfits accordingly.
• When in a cinema hall, make sure to stand up when everyone does to watch the 2-minute ceremonial tribute to the king.
• When in Thailand, be sure not to raise your voice or show anger as it is considered impolite in Thai culture and may even backfire.
• It is considered disrespectful and offensive to point your feet towards objects of display.
• Kindly appoint licensed guides for sightseeing who owns valid ID card.
• The tour confirmation voucher in printed format is necessary for check-ins at the hotels.
• The entry tickets and activity charges at sightseeing places will have to be avail by a guest on his/her arrangement and expenses.
• The meals included in the package will start from the dinner on Day One which will be served at the restaurants of the hotel of stay. The enroute meals have to be avail by a guest on his/her arrangement and expenses.
• Once the package is booked & confirmed no refund will be entertained.
• The guests are advised to maintain the schedule given for the sightseeing/transfers.
• If it becomes necessary due to bad weather or road conditions, we reserve the right to make changes or omit any place of a visit, etc.
• The guests are advised to inform if the guests are senior citizens or have health-related issues (like arthritis, heart problems, etc.) or any such matter which might need special arrangements. Some itineraries will not be suitable for them.
• Security concerns, driver's working hours, etc. will be kept in mind while planning the tour and sightseeing.
• We try to ensure that the sightseeing points do not fall on a closing day. If the sightseeing falls on a closing day, it will have to be left out due to an inevitable situation. Conducting that particular tour or sightseeing point the next day will be subject to time availability.
Things To Avoid While Traveling To Thailand
• Do not carry unwanted baggage.
• Do not swim in rivers, lakes, or glaciers.
• Avoid the use of slang and touching the locals while talking and maintain a healthy distance when in and around the city.
• Do not point at people.
• Avoid wandering alone at night.
• Stay away from drugs.
Languages:
The official and national Language of Thailand is Thai, Central Thai, or Siamese. Owing to being one of the most visited countries in the world by tourists, locals are well-versed in other languages such as English, French, and German.
Visa Guidelines While Applying Visa To Thailand
• Tourists can either apply for a Thailand Visa before their travel date or choose an option of Visa on arrival (VOA) facility ( maximum 15 days stay-period).
• Thailand Tourist Visa is issued with 3 months of validity under the single entry scheme and 6 months of validity under the multiple entry scheme.
• All applicants must follow the application process and must complete the application form as per the guidelines and regulations specified by MFA. (The Ministry of Foreign Affairs (MFA) of the Kingdom of Thailand.)
• All applicants are required to submit a recent passport-sized photograph (4×6 cm), documents such as the confirmed return ticket, and proof of sufficient funds (20,000 Baht per individual or 40,000 Baht per family). Applicants may also need to submit the bank statement for the past 6 months.
• Applicants are required to apply with an original passport with at least 6 months of validity (from the date of travel) and at least 2 blank pages are required for visa stamping during entry and exit. Regardless of the visa validity, visitors can stay up to 60 days without the need for an Extension of Stay. If the period of stay is expected to be more than 60 days, visitors must contact Immigration Bureau for an application for an extension.
Regional public holidays in Thailand
The Sightseeing point remains closed on
• Central Government and Bank National Holidays.
• New Year's Day (01 January)
• Makha Bucha Day (16 February)
• Chakri Day (06 April)
• Songkran Festival (Thai New Year) and Water Splashing Festival (13 to 15 April)
• Labor Day (01 May)
• The coronation Day (04 May)
• Visakha Bucha Day ( 15 May)
• H.M. The Queen's Birthday (3 June)
• Chulalongkorn Day (23 October)
• H.M. The King's Birthday (05 December)
• Constitution Day (10 December)
• New Year's Eve (31 December)
Here is a brief and descriptive guide to exploring magical Thailand. So, what are you waiting for? Thailand is eager to welcome you.
If you enjoyed this article, you might also be interested in checking out our blog Top "10 Honeymoon Places in India"