Everything you need to know about the Famous Turtle Festival in Maharashtra
Curious to witness the turtle nesting and hatchlings making their way to the sea? And if you wish so, Turtle Festival is the place to be. The Turtle Festival is a popular event that takes place once a year in Maharashtra, at some of the beaches located in the Konkan region.
Sea Turtles form a major part of the ecosystem. Olive Ridley Turtles are one of the endangered species of sea turtle. At this festival, you get to see Turtles in their natural habitat. During February and March, many Olive Ridley turtles come to the western coasts of Maharashtra and lay their eggs. To protect and conserve these turtles, various organizations such as Sahyadri Nisarga Mitra, Kasav Mitra Mandal, and Marine Conservation Society with the association of Forest department, Government of Maharashtra organize this turtle festival at the Konkan coastline every year to create awareness and promote eco-tourism.
In India, other than Maharashtra, there are several states, which are actively contributing to the protection and conservation of Sea Turtles. The state of Odisha has the famous mass nesting sites of the Olive Ridley Sea Turtles. Based on these ecological conditions, certain pockets on the Odisha coast have become the sites for breeding and nesting of Olive Ridley Turtles. Another major project in India was carried out in Chennai, where the Chennai wildlife team collected and protected eggs of Olive Ridley Turtles along the Marina coast, and hatchlings were successfully released into the sea in a phased manner.
About Olive Ridley Turtles
Olive-Ridley Turtles are considered endangered because of their few remaining nesting sites in the world. Olive-Ridley Turtles face serious threats across their migratory route, habitat, and nesting beaches, due to various human activities such as turtle unfriendly fishing practices, egg-stealing, development, and exploitation of nesting beaches for ports, and tourist centers. Some of the factors like Global warming, Pollution are significantly responsible for the decreasing survival rate of Olive-Ridley Turtles.
About the Turtle Festival:
Turtle Festival is a conservation and protection event for Olive Ridley Turtles and a celebration of their natural breeding process.
There are some of the popular breeding sites for the Olive Ridley Turtle on the Konkan coastline in Maharashtra. While few of them are the nesting beaches, located in Raigad, Ratnagiri, and Sindhudurga Districts. There are six villages on the Konkan coastline where the Turtle Festival is organized.
When the Olive Ridley Turtles come to the beach to lay their eggs, all of them are relocated to a nest site/ hatchery, where they have a much better chance to survive. Once the eggs hatch, the baby turtles are carried to the beach and released. The interesting fact is that female turtles return to the very same beach of their birth, to lay their eggs.
 If the eggs were left on the beach, they would face many threats such as getting washed away by the tide or getting poached. Previously they were either sold in the markets or were destroyed by dogs, but now, these eggs are guarded and protected by a group of volunteers against predators. The dedicated efforts of protection and conservation by NGOs, Local villagers, and the Forest Department, helped the significant rise of the Olive Ridley Turtles.
Watching these baby turtles take their first steps and at top turtle speed, crawling to find their way towards the sea is a delightful sight at the Turtle Festival.
Locations of Turtle Festival:-
Velas: Velas is a beautiful town located in Mandangad Taluka in Ratnagiri. It is famous for beaches, Bankot fort, and the popular Turtle festival. Velas is one of the most popular nesting sites on the Konkan Coast.
            Velas is around 230 km away from Mumbai and a 200 km drive from Pune.
Anjarle: Anjarle is situated in Dapoli taluka of Ratnagiri district. Anjarle beach is one of the cleanest and most unpolluted beaches in Ratnagiri. It is a serene beach famous for the crystal clear water and a dense cover of coconut trees covering the little tops of the local Konkani hutment. Some of the major attractions in Anjarle are Kadyavarcha Ganpati Temple, Suvarnadurg Fort, Dolphin Safari, and the annual Turtle Festival.
            Anjarle is around 194 km away from Pune and 215 km from Mumbai.
Kolthare: Kolthare is a less known town, located in Dapoli Taluka of Ratnagiri District. Kolthare is famous for the spectacular and serene beach, ancient Shiva temple, and the nesting sites of Sea turtles.
            Kolthare is around 215 km away from Pune and 246 km from Mumbai.
Guhagar: Guhagar is a spectacular tropical town known for the dense coconut groves, mango trees, betel nuts, and the ancient temples hidden in the dense forest. Guhagar beach is one of the popular nesting sites of Olive Ridley Turtles.
            Guhagar is around 245 km away from Pune and 261 km from Mumbai.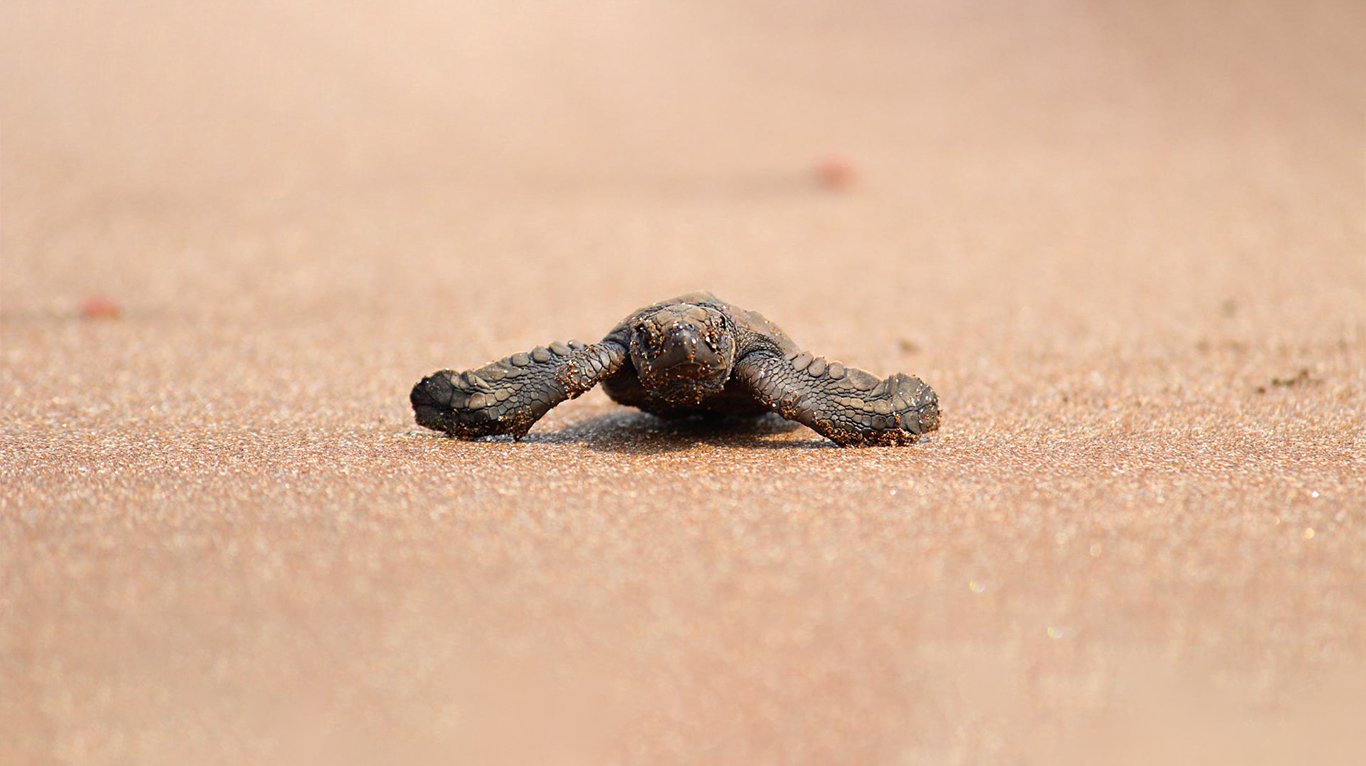 Gavkhadi: Sparkling water, dense Suru(Casuarina) forest and soft sandy beach truly exemplify Konkan beauty. Gavkhadi is located in Ratnagiri taluka of Ratnagiri District. Gavkhadi beach is considered ideal for breeding and nesting Sea turtles.
            Gavkhadi is around 325 km away from Pune and 352 km from Mumbai.
Sindhudurg: Sindhudurg is a beautiful town known for the famous Sindhudurg Fort, Vijaydurg Fort, and mesmerizing beaches. The beaches in Sindhudurg are famous for their marine life and the nesting site of Olive Ridley Turtles.
            Sindhudurg is around 350 km away from Pune and 493 km from Mumbai.
Time and Duration of Turtle Festival:-
The laying of eggs by Olive Ridley Turtles begins in February and continues till April. Most of the hatching happens during March, April, and May. There are no set dates or particular times when you can witness it. It's a process, you must come here and then wait for the process to begin. The most appropriate time to watch them crawling towards the sea is either from 7 am to7:30am or 6 pm to 6:30 pm.
Where to Stay?
This is a two to three days travel and stays if you want to experience the entire process of hatching and releasing turtles into the sea. All the destinations offer a Homestay facility
where you can stay in the local Konkani homes and can experience the peaceful rural lifestyle. You can cherish delicious Konkani cuisine and can enjoy your time in serene nature.
The Turtle Festival in Maharashtra attracts millions of tourists to these places every year from all over the world. Watching the release of these baby turtles into the ocean is quite an experience. The release of turtles takes place twice every day during the season, once in the morning and again during the sunset. So, do plan a visit to the Turtle festival In Maharashtra and carry a home basketful of memories!
If you enjoyed this article, you might also be interested in checking out our blog  "The Petroglyphs of Konkan: A window into an ancient world".